Age is just a number! You're never too old to get fit and feel happy.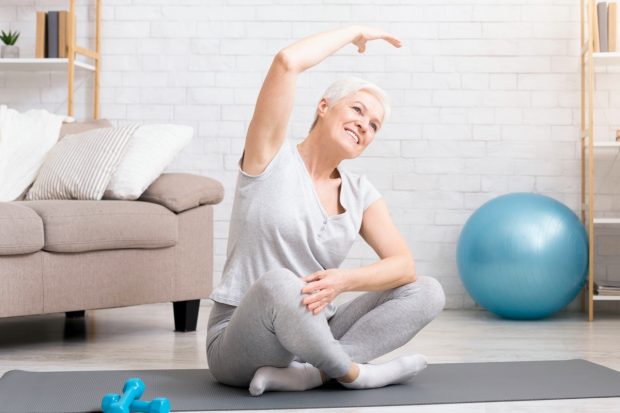 Older gym-goers fall into 3 categories: those who've worked out consistently throughout their life, those who've let their fitness slip through the cracks and those who've never trained at all.
Age-related muscle loss—sarcopenia—is a natural part of aging. Once you hit 30, muscle loss, on average, is 3 to 5 percent per decade. Not to worry, resistance training is scientifically proven to counteract muscle loss in older adults.
If you're 50+ and have been looking for the perfect plan to get stronger and fitter, here's everything you need to know about working out as you age.
Related: How Your Metabolism Changes in Your 20s, 30s and 40s
The Plan for Experienced Gym-Goers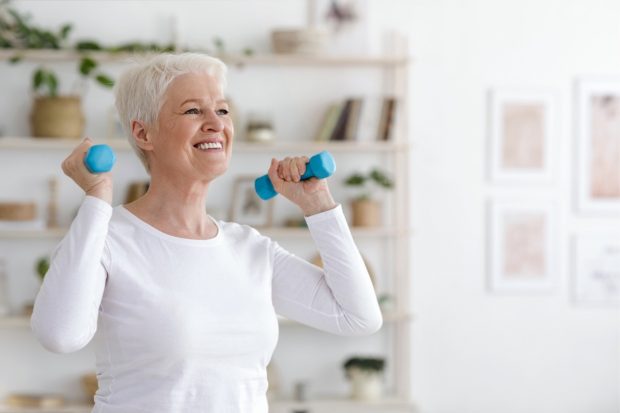 Have you been going to the gym longer than Taylor Swift has been alive? Great! This probably means you're already in incredible shape. You may even still train like you're not a day over 30. But sooner or later, your body will start to break down. Here's what you need to do.
Add total-body training to your routine at least 3 times per week. Within your training program, focus on functional movement instead of single muscle work—arm, back or leg days. Functional exercises train your major muscle groups to work together and stimulate common movements used in your daily life. By triggering various muscles in the upper and lower body simultaneously, you'll improve your balance, coordination and core stability.
Examples of functional movements include squats, push-ups, sit-ups, planks and deadlifts. These compound exercises recruit more muscle fibers than isolated movements like bicep curls or tricep extensions, making them ideal for building total-body strength.
Want to try something new? Explore Gymondo's resistance training programs, perfect for all fitness levels and ages.
The Plan for Anyone Who's Taken a Long Break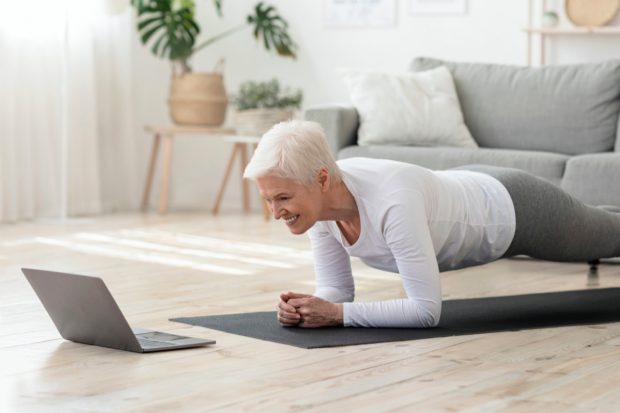 If your sneakers have been accumulating dust, it's time to lace 'em back up! But where should you start? It might be tough to swallow, but you'll need to start from the very beginning, especially if you want to remain injury-free.
Start out with low-impact functional bodyweight movements—air squats, incline push-ups, crunches and modified planks from your knees. Once you master these basic exercises, move on to more challenging movements—dumbbell squats, push-ups from your knees, sit-ups and high planks. Over time, your muscle memory will kick back in and you can accelerate your training with weight-bearing exercises.
Ready to get back on the horse? Start with Gymondo's low-impact bodyweight program to make strength gains and remain free from injury.
The Plan for Complete Beginners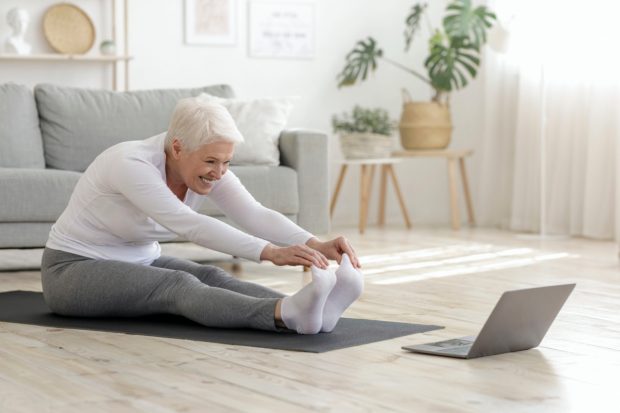 Just starting your fitness journey at 50+? That's amazing! First and foremost, you must build up your confidence to do basic movements. Flexibility and mobility are paramount to your fitness and health gains. If you struggle to touch your toes, it's a clear sign that the focus of your training should be on increased range of motion and improved mobility.
Start out with basic movement drills that can be completed comfortably and easily.
In the beginning, use your body weight as resistance to perform each movement and concentrate on your form. According to research, older adults are more likely to stick to a training program if they are able to perform the movements with ease, rather than focusing on how much strength they gain.
Are you a fitness newbie? Start with Gymondo's beginner-level flexibility and mobility program to improve your joint health and loosen up your limbs.
Takeaway
Let's face it— a 50+ body isn't the same as a 30-something one. You won't be able to perform some high-impact exercises—jump squats, plyo lunges—like you used to. But exercise is key to a good quality of life as you age.
Be kind to your joints. Choose low-impact, functional movements that challenge your major muscle groups and refrain from intense jumping and pounding exercises.
Above all, pick things you enjoy. If needed, your doctor or physical therapist can suggest ways to adapt resistance training or better alternatives based on the limitations of any medical conditions you may have.
The more you exercise, the more benefits you'll get. Anything is better than nothing! We'll be cheering you on!