Looking for a little motivation? This amazing woman lost 10 lbs with Gymondo! Read her story and check out her incredible before-and-after photo.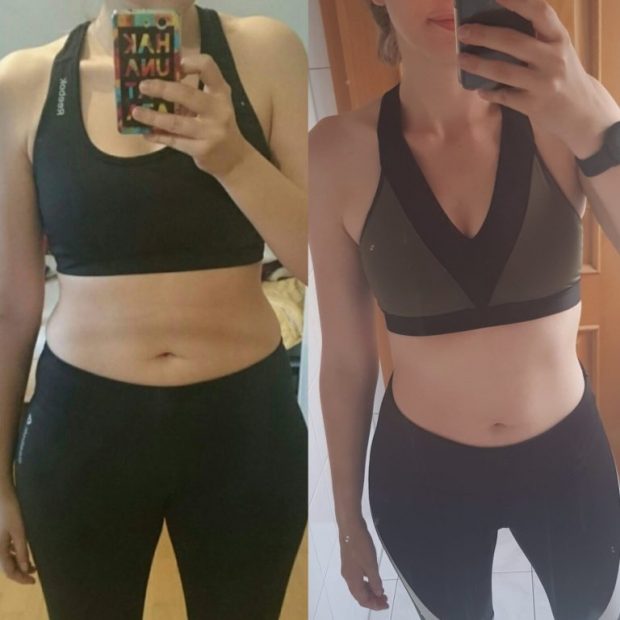 Here's Andrea's incredible journey behind this 'before' and 'after' pic.
What triggered you to start prioritizing your health and fitness?
"I felt totally uncomfortable in my own skin. In every situation, I thought to myself, 'do I look fat right now?' I just couldn't concentrate on anything other than my own dissatisfaction with my body. I wanted to turn these negative thoughts into a more positive outlook."
How often do you exercise?
"I made it a goal to complete two Gymondo workouts each week."
Which Gymondo programs do you follow?
"I started with Get in Shape Beginner. Once I finished the 10-week program, I incorporated Beach Body Boot Camp and Total-Body Shape."
What about your diet?
"Initially, I used Gymondo recipes for exactly 6 weeks. After the initial 6 weeks, my meals consisted of 50% Gymondo recipes and 50% my own."
Why Gymondo?
"My neighbor suggested the app. She recently had a baby and wanted to get back in shape herself, so she started training with Gymondo. Because it's easier to stay motivated working out with a friend, we always trained together and shared our successes with one another. This held us accountable. After we finished one program, we were more motivated to pursue our fitness goals by continuing with other programs."
What was your first positive experience with Gymondo?
"My first positive experience with Gymondo came rather quickly—after completing just 5-6 days of exercise and recipes. I felt fitter than I had in a long time. It really impressed me how quickly a body-positive feeling can set in."
Have there been times when you've had doubts?
"I tend to set totally unrealistic targets. If and when I don't achieve my goals, I get extremely disappointed. Unfortunately, this has happened many times. Luckily, I've learned from it. I no longer set 'number' targets—losing a certain amount of weight in a week or month. Now, my goal involves doing something good for my body every day without pressure to achieve something in a certain timeframe."
Was there anything in particular that motivated you to stick to your goal?
"I was just fed up with feeling bad. I was sick of feeling uncomfortable in my own body. I just wanted to feel good again."
What has changed in your life since your transformation?
"In short, I'm way more active than ever before. I even wear a bikini and don't give it a second thought. I'm now able to have fun in my own body without any negative thoughts."
Do you have a special tip for anyone who wants to get fit and feel happy?
"Drink plenty of water. I've always drunk too little, which is a hindrance to losing weight. So, stay hydrated!"
Now it's your turn! Start your own success story today. And be sure to check out more success stories here.