Exercise doesn't necessarily have to involve sweating it out to your favorite Gymondo workout or heading to the gym for a cardio class. Activities outside of your normal workout routine burn calories too. But we often fail to count all the times we take the stairs instead of the elevator, bike to work rather than take the train or walk the dog in lieu of letting Lassie loose in the fenced-in backyard.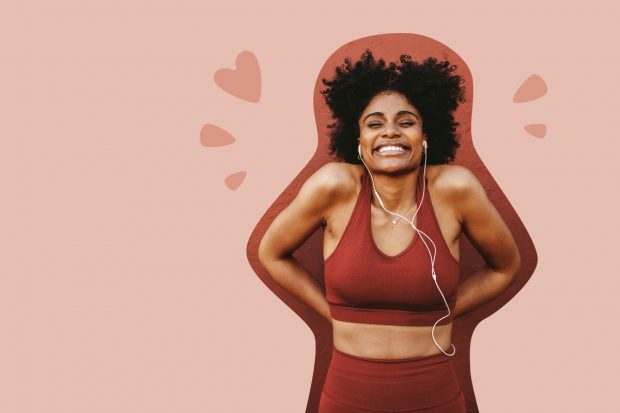 You can still burn off those extra calories by doing some ordinary activities from home, at the office or anywhere in between. Here are 7 ways to burn calories without breaking a sweat.
#1: Go for a Long (or Short) Walk
How many calories will I burn when walking?
On average, 100 calories per mile are burned for a 180-pound person | 65 calories per mile are burned for a 120-pound person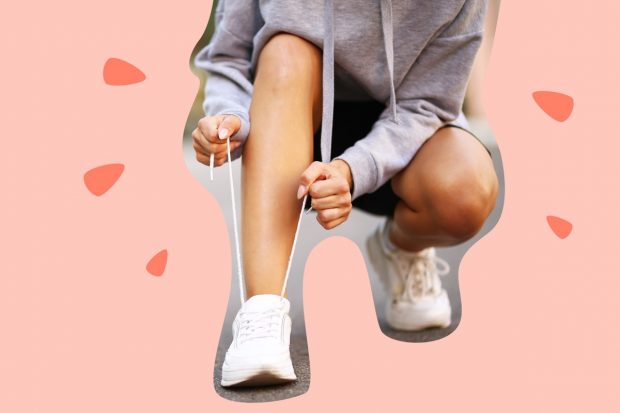 It's easy to jump in your car or take the metro to work every day. And while we're not suggesting you should stop (especially if you're in a hurry), what we do recommend is some minor adjustments. If you're taking the train or bus to work, get off one stop early and walk (or run) the rest of the way. On your lunch break, head out for a short 10-minute walk before you return to your desk. On the days you drive to work, arrive a few minutes early and take a couple of laps around the parking lot before you head into the office to face your day. Not only do these activities burn extra calories, they'll relieve stress and jumpstart your energy.
#2: Take the Stairs
How many calories will I burn from climbing stairs?
30 minutes of stair climbing burns 500 calories | 0.17 calories burned (on average) for every step climbed | 0.05 calories burned (on average) for every step descended
It's so tempting to press the "up" button on the elevator, especially if it's a 10-floor climb. But why not take the stairs instead? While you might arrive at the top a bit out of breath, your heart, thighs, booty and hamstrings will thank you for it. When you climb stairs, you burn twice the fat in half the time than if you run and three times more than walking. And you'll never have trouble finding stairs—they're literally everywhere just begging you to climb them!
#3: Bike to Work
How many calories will I burn when biking?
According to Harvard University, biking at a moderate speed of 12 to 13.9 miles per hour will cause a 125-pound person to burn 210 calories in 30 minutes and a 155-pound person to burn 298 calories in 30 minutes.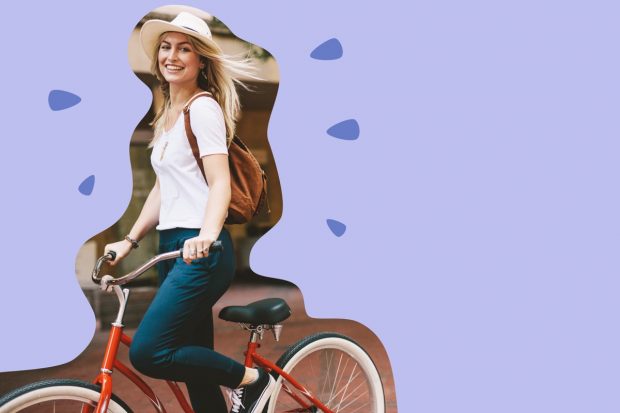 It's time to dust off your 12-speed and hit the open road. Not only is it the cheapest way to commute, but it's also the healthiest (and great for the environment). Getting outside and using your heart, lungs and muscles is obviously much healthier than sitting in your car…and it's a lot more fun! Not only that, studies suggest riding a bike also makes people happier. Riding boosts your endorphin levels (serotonin, dopamine) and being outside increases your daily amount of vitamin D, which gives you more energy and wards off depression. Try it for a week and see how you feel. All-in-all, it's a win-win!
#4: Grab a Basket When You Shop
Can I really burn calories from carrying around a basket at the grocery store?
Well yes, you can! Average calorie count: 100 calories/30 minutes
Unless your plan is to buy a year's supply of canned food and dry goods at the grocery store, opt for a basket instead of pushing around a massive cart. Carrying that increasingly heavy basket around the store will not only tone your arms but it will also burn off some extra calories. And with the smaller space of the basket, you'll only pick up what you really need. Those extra munchies just won't fit.
#5: Stretch Away Those Extra Calories
How many calories will I burn from stretching?
Average calorie count: 100 calories/20 minutes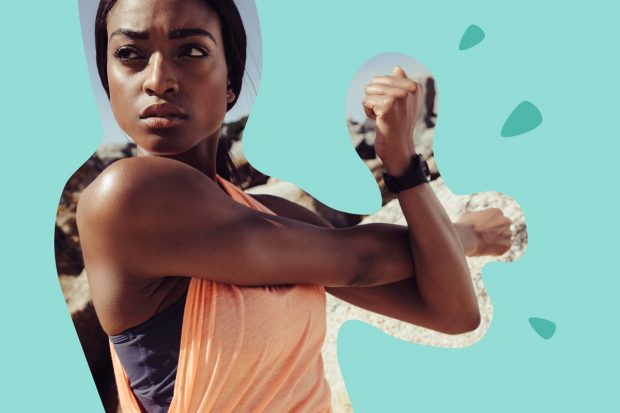 While you're listening to a podcast, binge-watching your favorite Netflix series or waiting on your food to be delivered, adding 10 to 20 minutes of light to moderate yoga poses or stretches will burn up to 100 calories. Plus, it'll relieve tension and stress while increasing your energy level. Try Gymondo's Yoga Basics program for some inspiration.
#6: Spring Cleaning
How many calories will I burn if I clean my home?
Average calorie count: 120 calories/30 minutes
Has it been a while since you scrubbed your kitchen floor, bathroom tiles or living room? It's time to get down and dirty. Spending just 15 minutes scrubbing your floors spotless will zap 115 calories and brighten up your home. All that bending, squatting and lunging will give you a total body workout without ever leaving the house.
#7: Move Your Body (at Work)
How many calories can I burn at work?
Average calorie count: 120 calories/30 minutes
It's so easy to ask your colleagues questions via Slack or email without ever leaving your chair. But why not walk over to their desk instead? Heading to the restroom? Take the long way (only if you can hold it) before plunging in. Did your phone just ring? Make a commitment to walking and talking every time you receive a call. All these little things add up—in just 40 minutes, you'll burn an additional 120 calories.
Takeaway
Every one of these activities impacts your metabolic rate, which determines the number of calories you burn each day. The slower your metabolism, the slower you burn calories. To activate your metabolic system and keep it burning (and guessing), add walking, biking, stair climbing, cleaning and more to your daily routine. By making simple lifestyle changes, you can kick your metabolic rate up a notch, burn more calories and lose weight.
Have any suggestions of your own? We'd love to hear more ways to burn calories without breaking a sweat.