Losing weight can be tough, especially without some much-needed outside inspiration. It's also difficult to remember that everyone loses weight in different ways.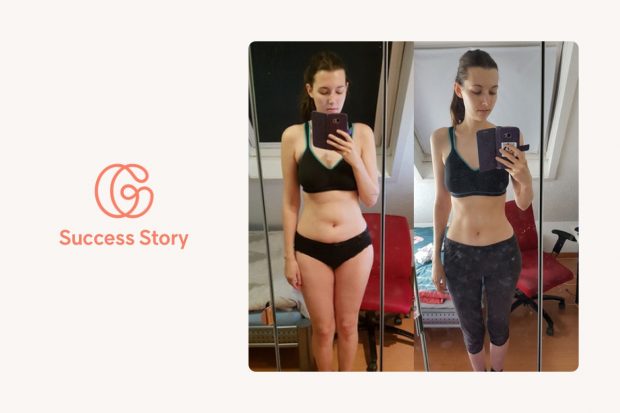 Gymondo has collected one of the most inspiring weight loss stories of 2020. Sandra lost 13 kg with Gymondo just by diet and exercise and pulled herself out of a deep, dark depression. She's loving her renewed self-confidence and has found a healthy lifestyle she can stick to. Best of all—she's happier than she's ever been!
Here's Sandra's inspiring story.
Why did you start exercising?
"I started exercising because I was at the lowest point in my life and my health was suffering. I did absolutely zero fitness—I hated it from a young age—and ate extremely unhealthy—mainly sugar and fast food. I was always overweight and my unhealthy lifestyle led to severe depression, terrible acne, a lack of concentration, trouble sleeping and chronic back pain. For as long as I can remember, I was miserable, had no strength for any activity and eventually developed an intestinal disease that could only be treated by surgery. Sometimes, you have to hit rock bottom to realize that a change is necessary."
How did you find out about Gymondo and how long have you been training with us?
"I came across Gymondo through online research. While I started off slowly, I've now been training with Gymondo for 3 years."
Tell us about your success.
"I lost over 13 kg, a lot of fat and reached my ideal body fat percentage. Overall, I feel better than ever. Now, I am full of energy and can concentrate much longer, which was unthinkable in the past. I no longer have back pain, I am stronger, happier, more relaxed and feel much healthier overall. The acne has completely disappeared. And after initial intestinal difficulties following the operation, I'm doing much better and everything has finally healed. Above all, I have a figure that I'm proud of. I can now say that I love fitness and no longer want to miss out on training."
What challenges did you overcome?
"I faced many different challenges but managed to turn my life around in all areas. I switched from a meat- and sugar-heavy diet to a vegan, reasonably low-carb diet—only whole grains. This was hard at first but became easier over time. Right now, I'm starting a new challenge—intermittent fasting."
How did you integrate fitness and healthy eating into your everyday life?
"Over the past 2 years, I've read around 120 self-help books. I knew I needed to change and these books enabled me to get my act together, which has had a significant impact on my career, health, finances, relationships and self-worth. For example, I have implemented a morning routine in which I do my workouts and reading early on. I achieve more in the morning than I used to achieve in an entire day. Scheduling a morning routine has set me up for success. I can now say I'm a completely new person."
How did Gymondo help you on your fitness journey?
"What I like most about Gymondo is the program variety—there is literally something for everyone, especially beginners like me. Most of the workouts are the perfect length—20 to 25 minutes—which is why I can easily integrate them into my morning routine. In terms of Gymondo's nutrition plan, I'm very happy there are so many vegan and low-carb recipes. More of those, please!"
Which fitness programs and workouts do you use the most?
"The Stronger Back program is a must for my sedentary job. I also love Full-Body Starter and the Fat Burner program. The Gymondo trainers have great personalities and are super motivating!"
How did you manage to stay motivated, even in difficult moments?
"The magic of habit! With the right attitude, you gain the willpower to make working out a habit. Everything eventually becomes easier. For example, working out several times a week can lead to solid habits. But if you associate negative feelings with working out, it is easier to lose the willpower to make it stick. I try to associate positive emotions with working out. This has helped me consistently train, even on days I don't feel motivated to do it. I think of how I'll feel afterward and the benefits to my health. My change in mindset has been the key component to developing healthy habits. I've even written a book on the subject to make it easier for others to change their habits."
Was there a moment when you were particularly proud of your achievements?
"Today! After 3 days of successful fasting—that was my first time—coupled with moderate workouts, I've now reduced my body fat percentage even more. For the first time in my life, I have a body that I'm proud of and I've worked extremely hard to get here."
How has your weight loss changed your life?
"I'm more energetic, happier, more concentrated, stronger, more self-confident and healthier. Back pain is a thing of the past, as is my chronic disease. Losing 13 kg has given me a renewed sense of self-worth and confidence. I'm so happy with my new body. It makes me feel great. And, of course, I continue to train with Gymondo!"
What advice do you have for anyone who is just starting their fitness journey?
"Try Gymondo! With all seriousness, I really do think Gymondo is the best fitness app on the market. It's helped me tremendously to implement healthy habits. With Gymondo, you have concrete plans with specific goals. There is a rewards system and you can easily track your successes, which is important to fully implement a habit. You're never left alone and get valuable tips within each workout. I couldn't have done it without Gymondo."
Thank you for sharing your story with us, Sandra! The entire #TeamGymondo wishes you continued success in your fitness journey!
---
Are you just starting your fitness journey? Take inspiration from Sandra's motivational story! Sandra is a great example of how exercise and healthy eating can change lives for the better. Start your own success story now and let Gymondo help you get there.