Strip away fat and add lean muscle to transform how you look and feel this summer.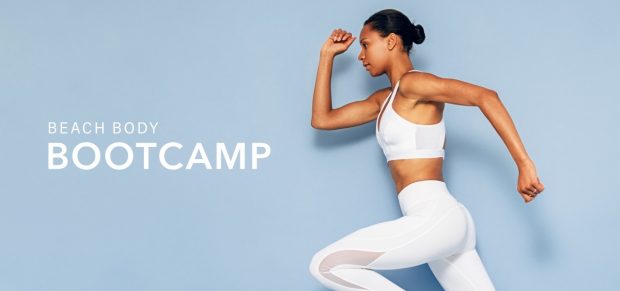 Summer means BBQs and beach parties. But most of all, it means wearing less clothes.
If you want to get beach body ready, it's time to switch up your training. Beach Body Boot Camp will get you ready for swimsuit season in no time!
What's Beach Body Boot Camp all about?
This 10-week equipment-free custom training program can be done right from home, on-the-go or at the beach. Gymondo's motivating trainers will guide you through effective bodyweight exercises that target your trouble areas— legs, glutes and abs. You'll be ready for the beach at the blink of an eye!
Burn calories and get toned with a great mix of cardio and strength training exercises. From start to finish, you'll build lean muscle and utilize your fat stores as fuel. Expect to dramatically change how you look and feel right from the get-go.
Each workout is built around circuit-style training, which forces you to work more aggressively—revving up your metabolism and resulting in more fat loss. You'll start each workout off with a challenge. Then, you'll move into leg toning exercises, followed by some extensive core work and finish off by hitting that booty. There's not an angle of your legs, abs and backside that's left untouched!
Get a taste of what Beach Body Boot Camp is all about in this short video.
Who Is This Program For?
Perfect for All Fitness Levels
Whether you're an absolute beginner or if you work out regularly, Beach Body Boot Camp is perfect for all fitness levels. There are modifications for each exercise and harder versions for the more advanced fitness enthusiast.
Perfect for Busy Lifestyles
Sometimes, the problem with hitting the gym is getting there. In the time it would take you to pack your gym bag and head out the door, you'd already be finished with a Beach Body Boot Camp workout. In just 20 minutes, you'll get in, get out and get it done! And guess what? You'll still have time for all the other important stuff in your life.
Perfect From Home and On-The-Go
There is no need for buying super fancy equipment for this one! Just grab a mat and your water bottle and shape that beautiful body of yours from your living room, bedroom, balcony, park, beach…you get the point. These workouts can be done from literally anywhere, at any time.
Start Beach Body Boot Camp Today!
Get beach body ready and feel ultra-confident in that swimsuit! This shape-up program targets the three things you care about most when in a swimsuit—your legs, booty and tummy. Beach Body Boot Camp is composed of all the right exercises to get you ready for the summer. So peel off your beach towel and feel slimmer, stronger and more confident than ever before. Our motivating trainers are ready to whip you into beach body shape!