Kristin transformed her body through healthy eating and a dedication to fitness.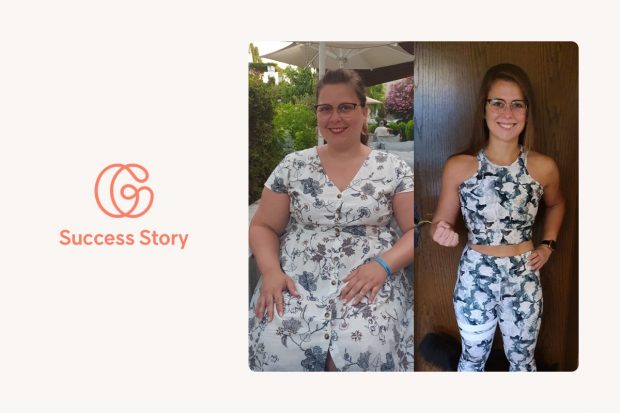 Weight loss doesn't happen just by amping up your cardio training and curbing your sweet tooth. Here, one woman shares her biggest motivators on her weight loss journey. Find the inspiration you need in Kristin's incredible weight loss success story!
Why did you start exercising?
"There were many reasons—I wanted to build an all-around healthy lifestyle. Not only did I want to lose weight, but I also wanted to develop strength, increase my flexibility and relieve back pain."
What motivated you to lose weight?
"I was obese. Everything was tight—my pants didn't fit, my shirts were too small and even my underwear was too tight. Imagine walking into a room and being concerned that the chair would break once you sat down. My entire life revolved around my weight. Every step I took left me out of breath, and forget about stairs—I simply couldn't climb them!
"I took a good look at myself and decided enough was enough. But the transformation didn't begin until I changed my job. The result: way more free time. At this point, there were no more excuses."
When did you start your weight loss journey?
"I started in October 2019. My goal at the time was to lose 48 kg. I achieved this goal after only one year. But it wasn't like I gave myself a fixed period to lose the weight. At no point did I want to put too much pressure on myself. Overall, I'm really proud of myself for all I've accomplished!"
Who helped you integrate fitness and healthy eating into your everyday life?
"My partner helped me a lot, but my mom and sister were also strong motivating forces. Everyone supported me. Those around me started to live healthier and exercise more regularly. We motivated one another."
What do you like most about Gymondo?
"The flexibility. No matter where or when, I can always get a workout in. I always have two fitness programs running, but when I'm not up for one of them, I can easily choose another workout. This way, I can always train based on how I feel, which is especially handy when I'm low on energy. To be honest, this has been a huge factor in keeping me from tormenting myself when I'm not up to form."
How do you continue to stay motivated?
"For starters, I set an end goal. Of course, there were bad days, but I never gave up. Instead, I would take a few days off and refocus. Whenever I couldn't work out, I would go for a walk instead. In terms of dieting, I never prohibited myself from eating certain foods. If I felt like chocolate, I ate it, but I did so in moderation."
What are you most proud of?
"I got married in November 2020 and wore a simple dress with a deep neckline. My back looked wonderful. I am particularly proud of that!"
How has your weight loss success changed your life for the better?
"I'm a completely new person. None of my clothes are tight anymore. I now do what I want, when I want and am more fit than I've ever been. That's a dream! Every day, I'm significantly more motivated and less tired. Even my skin is better. Plus, my allergies have decreased. Life is simply easier in the truest sense of the word, whether privately or at work."
Are there any future goals you've set for yourself?
"I'm currently training to complete my first pull-up. I also plan to do the Gymondo med ball program again, but this time with a 5 kg ball. Otherwise, I want to maintain my current fitness level and further define my body."
What advice would you give to someone just starting their fitness journey?
"Concentrate on small successes and don't expect big changes right away. For example, the first time I completed a workout without having to stop or do modifications was a huge turning point for me. Small successes are incredibly motivating."
Final Thoughts
There's no secret formula to losing weight. You didn't put it on overnight and you can't take it off overnight. But if you eat right and exercise, you'll lose weight. It might not happen as fast as you'd like, but if you stick to a healthy living plan, you'll see results.
Find more inspiring weight loss success stories here.
---
Gymondo can help. Join 1000s of happy users like Kristin and start your weight loss journey today. Choose from over 30 results-driven fitness programs, 300+ motivating workouts and 1000+ low-calorie recipes to reach your weight loss goals.