Anastasia is a strong and powerful woman, plus she's a great role model for her three children.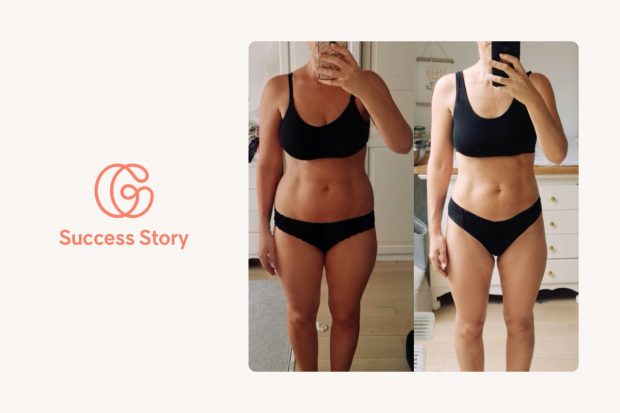 Despite her everyday life being jam-packed, she still manages to train regularly and eat healthily with Gymondo. This powerful combination helped her achieve her fitness goals and has ultimately changed her life.
Read her inspiring story below.
When did you start training with Gymondo?
"I started training with Gymondo exactly a year ago, just a few weeks postpartum. And it didn't take me long to make fitness a habit."
What was your main motivation to start exercising?
"In the beginning, my main goals were to lose weight, build muscle and recover after my third pregnancy.
"After my first child was born, I was still very active—heading to the gym several times a week. When my second child was born, I seemed to lose the motivation to work out consistently.
"While I tried to stick to it, it was nearly impossible with two children and a part-time job. That's where Gymondo came in! I'm really proud of myself for incorporating fitness into my everyday life, especially now that I have three children."
Tell us about your greatest accomplishments.
"I must admit, the first few weeks after I gave birth to my third child were rough. In September of 2019, I started training regularly with Get in Shape Beginner, a fitness program that was suitable for my level at the time.
"It was hard, but I managed to work out, even with the distraction of my children. My first noticeable success was on the scale. Then, my figure slowly started to change.
"Although I didn't achieve success in record time, I'm really happy with my results. A year ago, I wouldn't have fathomed that I would be where I am today. It's funny, I feel happier and healthier with three children as opposed to two. For that, I'm proud!"
Find more inspiring weight loss success stories here.
How did you prioritize your health and fitness?
"Gymondo has been really helpful. Now, I can easily fit workouts into my daily life. Because the workouts are around 20 minutes, I can schedule training in the morning when everyone's asleep, in the afternoon when the kids are at school or in the evening when everyone's gone to bed."
What do you like best about Gymondo?
"I love the flexibility and variety that Gymondo offers."
How do you stay motivated, even in your most difficult moments?
"I don't fight against difficulties. Instead, I acknowledge them. More than ever, I listen to my body. When I'm too tired or too busy, I take a break from working out without beating myself up over it. This has been a proactive and productive approach for me."
What's your proudest moment?
"A particularly proud moment for me was when I completed my first fitness program and noticed how much easier it was for me to finish the last workout compared to the first.
"After that accomplishment, everything started to get much easier for me, especially since I had developed more strength and stamina. But the icing on the cake was seeing my before-and-after picture. Bam!"
How has your transformation changed your life?
"I no longer suffer from lunchtime depression, I require less sleep, I have more energy and strength and it's much easier for me to cope with my everyday family and work responsibilities. Plus, I've banned XL from my wardrobe!"
What future goals have you set for yourself?
"Over the summer, I wanted to lose another 3 to 4 kilos (in a healthy way, of course). After I achieved that, I'm now focused on gaining strength."
What advice would you give to those just starting their fitness journey?
"Set small goals, be patient (that's the hardest part) and complete short workouts. But most importantly, train regularly. It's best to start training three times a week for 20 minutes. It's easier to make fitness a habit by starting slowly and working your way into it."
---
Thanks for sharing your inspirational story with us, Anastasia. We at #TeamGymondo wish you continued success and lots of fun while training with us!
Are you just starting your fitness journey? Take inspiration from Anastasia's motivational account and start your own success story today!
With Gymondo, it's easy to manage your health and wellness, even with a jam-packed schedule, children and a job. Join our happy and healthy Gymondo family today and get started on your journey. We'll be with you every step of the way.