Test out our vegan diet for a week with tips, tricks and delicious recipes.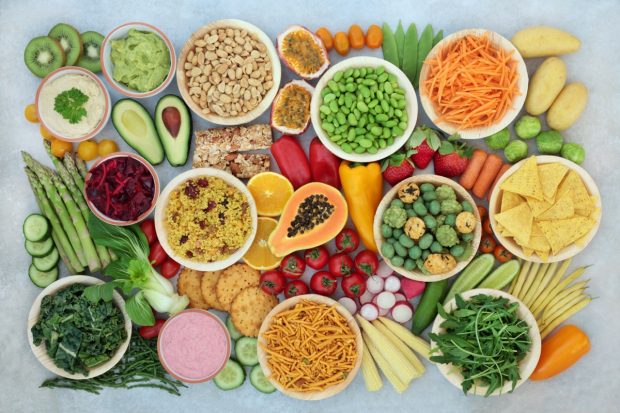 There's a lot of buzz surrounding veganism, so why not go vegan for a week? Our 7-day Vegan Challenge will help you determine if a vegan diet is right for you. Mix up your daily routine with 7 days of healthy plant-based recipes and hacks to go vegan for a week.
What Is a Vegan Diet?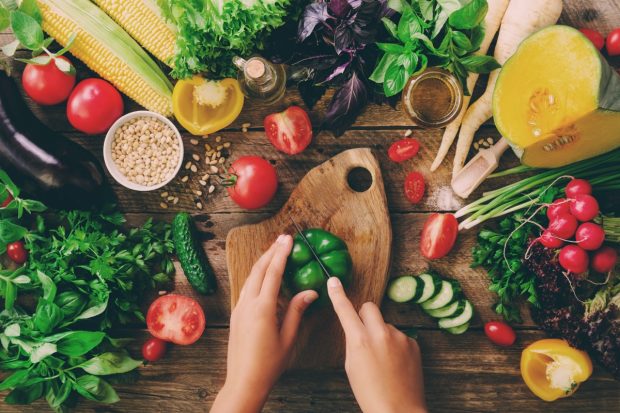 The answer is pretty simple—say no to meat or any animal product—milk, cheese, eggs and even honey (produced by bees, after all).
People decide to adopt veganism for different reasons—health reasons, ethical concerns, religious principles or to decrease the ecological footprint (plant-based diets generate fewer greenhouse gas emissions and use fewer natural resources).
However, depending upon the production, packaging and transportation of plant-based foods, they can still negatively affect the environment.
Benefits of a Vegan Diet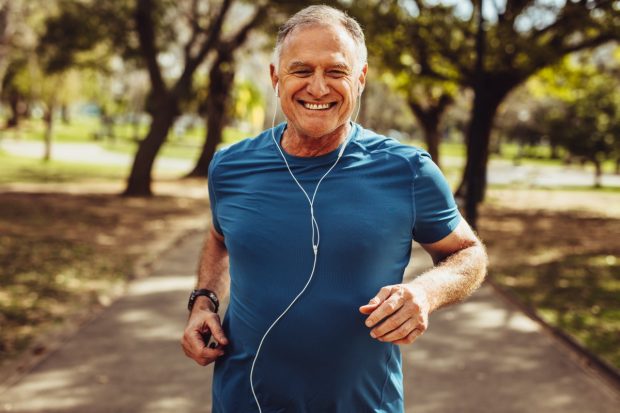 Numerous studies suggest vegan diets have multiple benefits—the regulation of blood sugar levels, improved heart health, increased weight loss, less joint pain and a decreased risk of cancer.
Going vegan may even help you live longer. According to research, vegans have a 15% lower risk of dying prematurely from all causes, indicating that a vegan diet may help people live longer than those who adhere to vegetarian or omnivorous eating. This may be due to the fact that vegans have a lower body mass index (BMI) than people who eat animal-based products, which is a sign of longer life expectancy by up to 4.5 years.
Eating a diet high in fruit, vegetables, whole grains and nuts promotes overall health, particularly because these foods are rich in fiber, antioxidants and vitamins that help protect against diseases like diabetes and cancer.
Vegan Nutrition and Diet Basics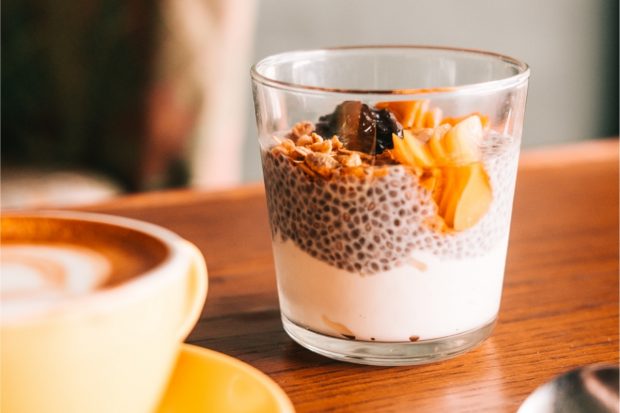 If you're not careful, you could be missing out on some essential nutrients and vitamins by going vegan. Here are some helpful tips:
Protein
It's important to get enough protein. Make sure to eat an ample amount of protein from foods like nuts, peas, beans, tofu, meat substitutes and quinoa.
Vitamin B12
Vitamin B12 plays a crucial role within the body, including blood and brain functions. Unlike vegans, omnivores can get their daily dose of vitamin B12 from dairy and eggs. Although our bodies can store several years' worth of vitamin B12, vegans need to pay more attention to it, especially since no plant product contains B12.
The good news is many vegan products are fortified with vitamin B12. Some examples include:
Fortified yeast extract
Fortified cereals
Fortified soy milk
Fortified soy yogurt
Omega-3
Omega-3 is an essential fatty acid—the body can't produce it on its own—that plays a huge role in heart and brain health. Most diets (vegan or omnivorous) are far too high in omega-6 and far too low in omega-3.
Excessive amounts of omega-6 polyunsaturated fatty acids (PUFA), predominant in the Western diet, increase the risks of many diseases, including cardiovascular disease, cancer and inflammatory and autoimmune diseases, while omega-3 PUFA suppresses these effects.
Be sure to include the following omega-3 rich foods into your daily diet:
Flax seeds
Chia seeds
Flaxseed oil
Leafy green vegetables
Iron
Vegans need to be aware of their iron intake. Iron is needed to carry oxygen to the body's cells. One of the first signs of low iron deficiency is feeling tired or fatigued.
For a successful vegan meal plan, it's essential to add enough nutrient-dense foods in order to get the right amount of iron needed.
Good sources of iron in a vegan diet include:
Chickpeas
Lentils
Kidney beans
Tofu
Sprouted beans and seeds
Breakfast cereals and bread
Green leafy vegetables, like kale and cabbage
Broccoli
Nuts, like almonds and cashews
Dried apricots, dates and raisins
Date syrup and molasses
Your 7-Day Vegan Challenge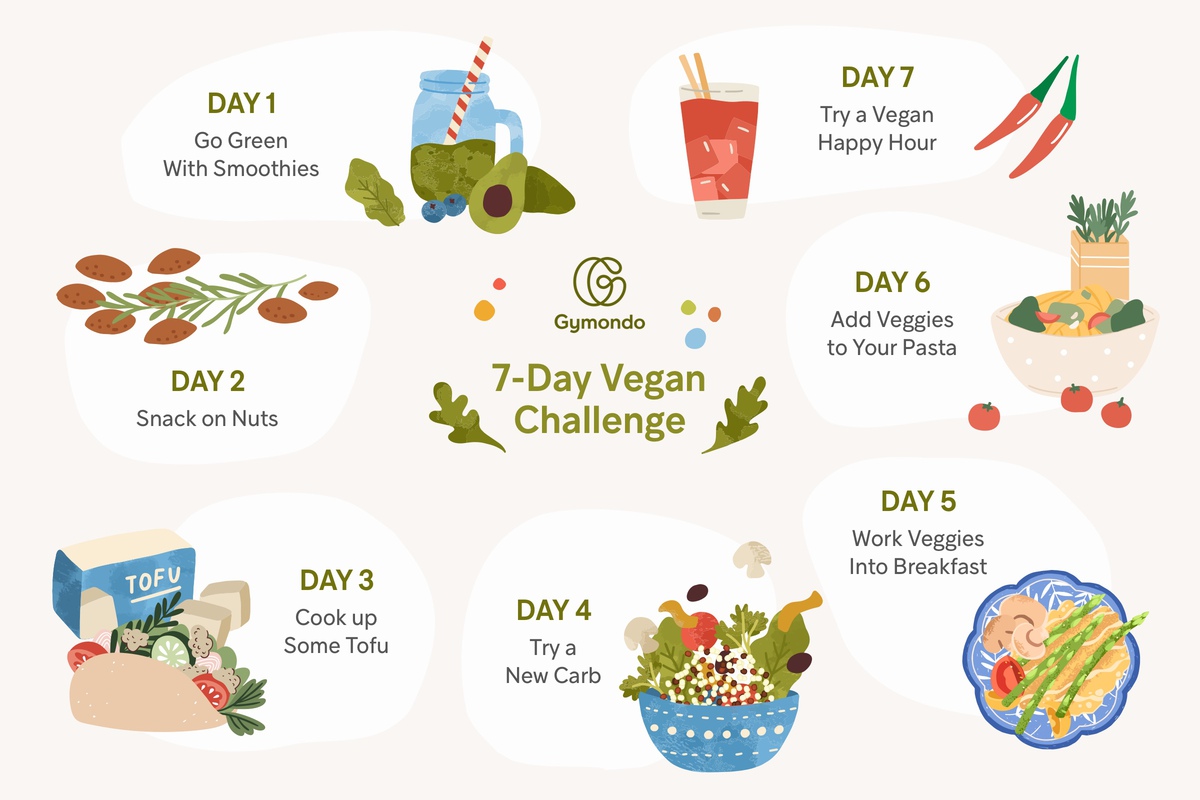 Below, you'll find daily challenges covering the next 7 days. Your goal is to eat vegan for one week and incorporate the following recommendations into your daily diet.
Day 1: Go Green With Smoothies
An easy way to increase your daily veggie intake is by blending green leafy vegetables into your smoothies. If you're not the biggest fan of leafy greens, smoothies are the best way to hide the taste. Plus, leafy greens, like spinach and kale, pack a powerful punch, especially since they're loaded with vitamin C, K, iron and fiber.
Check out our go green smoothie recipes here. For recipes that call for skyr or yogurt, replace with silken tofu for a vegan option.
Day 2: Snack on Nuts
When those midday hunger pangs hit, let nuts be your new go-to superfood. Chocked full of protein, fiber and healthy fats, nuts will keep you satisfied for longer. The nutrients in nuts take longer to digest, making them the perfect afternoon snack to sustain you until dinnertime.
Roasted Almonds With Rosemary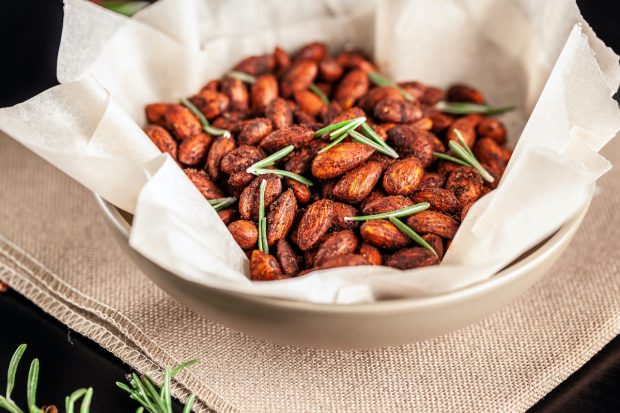 Ingredients:
3 cups (1 pound) whole raw almonds
2 tablespoons extra virgin olive oil
1 teaspoon sea salt
1 teaspoon dried (crushed) rosemary
Instructions:
Preheat oven to 350°F (175° C)
In a medium bowl, toss together all ingredients until almonds are well coated.
Spread into a single layer on a large baking sheet.
Roast for 10 minutes, stir and continue roasting for another 10 minutes. Watch closely during the last 10 minutes to make sure they don't get too brown.
Cool on baking sheet before storing in an airtight container.
Day 3: Cook up Some Tofu
Turn to tofu to spice up your vegan dishes. Packed with plant-based protein, tofu works in just about every recipe—stir-fries, vegan scrambles and even some desserts. Try out our tofu tacos on your carnivorous friends—bet they won't even realize the dish is beefless!
10-Minute Tofu Tacos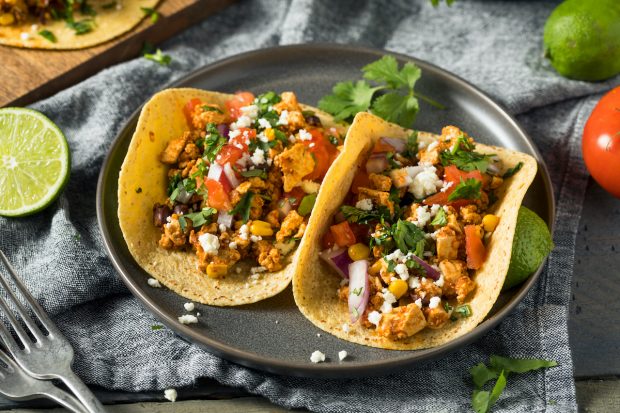 Ingredients:

2 tablespoons extra-virgin olive oil, divided
1 tablespoon soy sauce (or tamari for a gluten-free option)
1 teaspoon chili powder
1 teaspoon chipotle chili powder (pretty hot)—reduce to 1/2 teaspoon if sensitive to spice
1 teaspoon ground cumin
1/2 teaspoon garlic powder
1/2 teaspoon onion powder
1 (14-ounce) block extra-firm tofu drained and patted dry
1 (14-ounce) can black beans rinsed and drained
1/2 cup prepared salsa
2 tablespoons nutritional yeast
For serving:
Warm corn or flour tortillas with sliced avocado, chopped cilantro, salsa, cheese (dairy-free), tomatoes and/or any of your favorite taco fixings.
Instructions:
Place a rack in the upper third of your oven and turn the broiler to high.
In the bottom of a large mixing bowl, whisk together 1 tablespoon olive oil, soy sauce, chili powder, chipotle chili powder, cumin, garlic powder and onion powder.
Crumble the tofu into small pieces in the bowl. With a fork, stir to combine. The tofu should be in small bits. Toss until the tofu is evenly coated with the spices.
Heat the remaining 1 tablespoon olive oil in a large, ovenproof skillet over medium-high heat. Add the tofu crumbles. Cook, stirring occasionally until the tofu is dry and the moisture has cooked off—about 6 minutes.
Add the black beans, salsa, and nutritional yeast. Cook until warmed through and the salsa liquid has cooked off—about 1 to 2 minutes more.
Spread the tofu mixture into an even layer. Place under the broiler and cook until darkened on top—about 4 minutes.
Remove from the oven, stir to expose new parts of the tofu to the top, then spread back into a single layer. Return to the oven and broil 4 additional minutes.
Remove from the oven and repeat the stirring and broiling once more (3 times total).
Pile the filling inside warm tortillas and top with all of your favorite fixings.
Related: 5 Scientifically Proven Reasons to Go Plant-Based
Day 4: Try a New Carb
Is your go-to carb potatoes or rice? Get outside your comfort zone and look for other carb varieties—the list is endless.

Try quinoa—one of the most powerful plant-based superfoods around. It's loaded with high-quality protein (8 grams) and fiber (5 grams) and contains all the essential amino acids your body needs. Plus, it's gluten-free!

Beyond quinoa, there are other delicious whole grains worth trying—barley, farro, millet, wheat berries and more. Just be creative!
Garden Veggie Quinoa Salad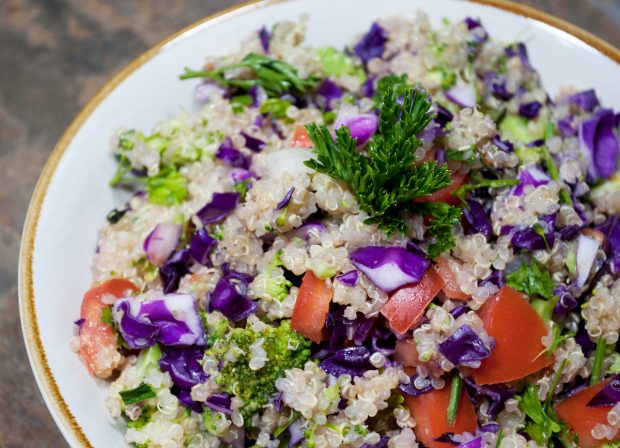 Ingredients:
1 cup dry quinoa
1.5 cups water
2 ears fresh corn
1 cup chopped fresh spinach
1 cup chopped bell pepper
1 cup chopped tomato
6 leaves fresh basil
Salt and pepper to taste
For the dressing:
2 tablespoons avocado oil
1 tablespoon orange juice
1/2 lemon, juiced
1/4 teaspoon fresh lemon zest
1 clove garlic, minced
1 tablespoon chopped green onion
1/4 teaspoon sea salt
1/4 teaspoon black pepper
Instructions:
Rinse and drain quinoa using a mesh strainer or sieve.
Bring a medium saucepan to medium heat and lightly toast the quinoa to remove any excess water. Stir as it toasts for just a few minutes.
Next, add water, set the burner to high and bring to a boil. Once boiling, reduce heat to low and simmer, covered with the lid slightly ajar for 12-13 minutes or until quinoa is fluffy and the liquid has been absorbed.
While the quinoa cooks, whisk together your dressing ingredients and set aside.
Prep your veggies. Cut your corn from the cobb and saute or steam to cook.
Chop spinach, bell pepper and tomato.
Once quinoa is ready, fluff with a fork and season with salt and pepper. Combine with your veggies and sprinkle with chopped fresh basil to taste.
Day 5: Work Veggies Into Breakfast
Many breakfast options are loaded with sugar—maple-syrup topped pancakes, breakfast cereals, pastries and more. And sugar, as you may know, provides zero nutritional value and contributes to significant weight gain. No one wants to start the day off like that! If you're looking for a morning pick-me-up, work veggies into your breakfast.
Tofu Scramble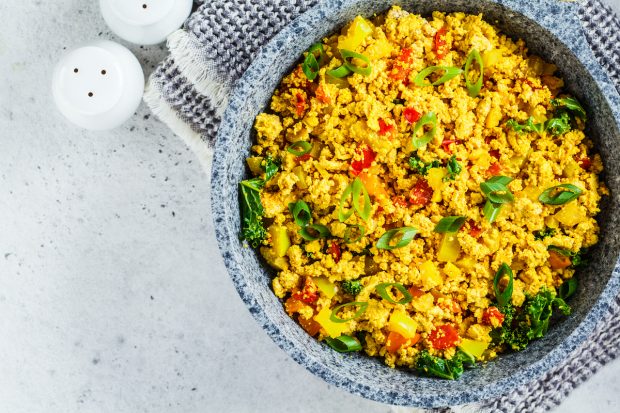 Ingredients:
2 tablespoons canola oil, or high heat oil of choice
1 small (8-ounce/227 gram) sweet potato, diced into about 1/2 inch pieces
1 medium onion, diced
1 bell pepper (any color), cut into strips
3 garlic cloves, minced
1 (14-ounce/400 gram) package extra-firm tofu, drained and patted dry
2 cups sliced kale leaves
2 tablespoons soy sauce
1 tablespoon ground cumin
1 teaspoon turmeric
1 tablespoon hot sauce
Black pepper to taste
Instructions:
Coat the bottom of a large skillet with the oil and place it over medium heat.
Give the oil a minute to heat up and when it begins to simmer add the sweet potato, onions and garlic.
Cook the sweet potato, onions and garlic, flipping occasionally until the sweet potato is fork-tender and crisp on the outside and the onions and garlic are soft and browned—about 10 minutes.
Add the bell pepper. Cook another two minutes, until the pepper begins to soften up.
Break tofu into bite-sized chunks and add it to the skillet. Flip everything a few times with a spatula to mix the ingredients.
Cook for about 5 minutes, flipping occasionally until the tofu begins to dry up and crisps in spots.
Add the kale, letting it wilt slightly.
Stir in the soy sauce, cumin and turmeric. Flip everything again to incorporate the ingredients. Cook for 1 to 2 minutes, until most of the soy sauce dries up and the kale has fully wilted.
Remove the skillet from heat and season the scramble with hot sauce and black pepper to taste.
Serve with toppings and accompaniments of choice.
Day 6: Add Veggies to Your Pasta
Friendly reminder: it's recommended to eat 2.5 to 3 cups of vegetables every day. One of the best (and easiest) ways to increase your veggie intake is to add them to foods you eat on a regular basis. Pasta might be one of them. Saute onions, peppers and broccoli and add them to your favorite pasta dish for a nutritious boost.
Veggie Spaghetti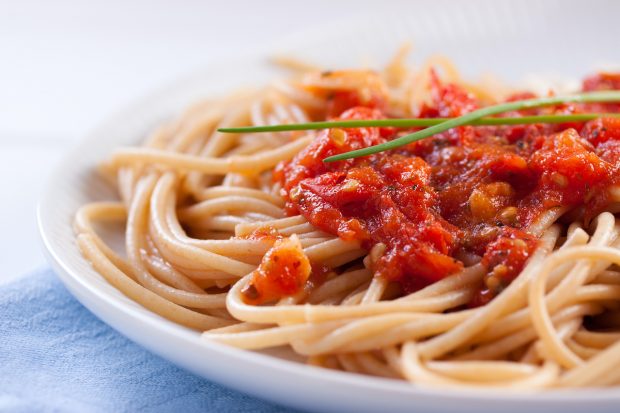 Ingredients:
12 ounces whole-wheat spaghetti
4 tablespoons olive oil
1 cup (140 grams) chopped onion
2 medium zucchini, chopped
2 medium yellow squash, chopped
3 garlic cloves, minced
1/2 teaspoon dried oregano
1/4 teaspoon red pepper flakes
2 tablespoons tomato paste
1 (28-ounce) can whole peeled tomatoes
1 (12-ounce) jar roasted red peppers, drained and cut into 1/2-inch pieces
5 cups spinach leaves
Handful fresh basil leaves, plus more for garnish
Salt and fresh ground black pepper
Instructions:
Heat olive oil in a large skillet over medium heat. Add onion and cook, stirring occasionally until translucent—3 to 5 minutes.
Add zucchini, yellow squash, garlic, oregano, red pepper flakes and salt.
Cook, stirring occasionally until softened but still with some crunch—5 to 8 minutes.
Stir in the tomato paste and cook for another minute.
Add the roasted red peppers and tomatoes. Bring to a low simmer and cook until the liquid has thickened and reduced by half—about 10 minutes.
As the sauce cooks, use a spoon to break up the whole tomatoes into smaller pieces for a chunky sauce.
While the sauce simmers, bring a large pot of salted water to the boil then cook pasta according to package directions.
Take the sauce off of the heat, and then stir in the spinach and basil. Taste to adjust with additional salt if needed. Toss in the cooked pasta, and then leave for a minute so that the pasta absorbs some of the sauce and the spinach wilts. Toss again and serve with fresh basil on top.
Related: 7 Superfoods to Boost Your Immune System With Inspirational Recipes
Day 7: Try a Vegan Happy Hour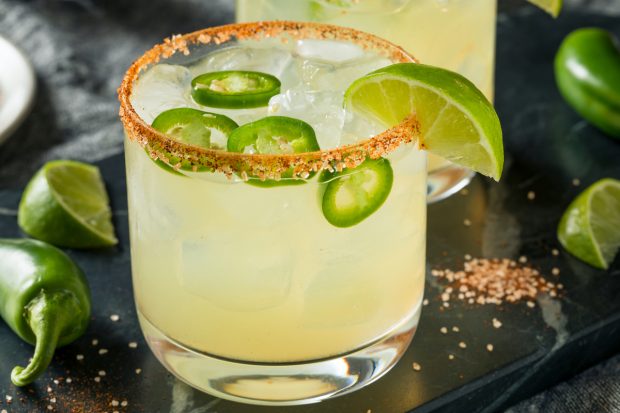 You made it! Now, it's time to treat yourself to a vegan cocktail! Celebrate your 7-day vegan challenge by trying this reduced-sugar jalapeño margarita recipe!
Jalapeño Margarita
Ingredients:
1/2 cup granulated sugar
1/2 cup water
4 to 6 slices jalapeño pepper, plus more for garnish
2 cups Blanco tequila
1/2 cup lime juice
1/2 cup orange juice
Ice cubes for serving
Instructions:
Combine sugar, water and jalapeño slices in a small saucepan. Cook over medium-high heat, stirring until the sugar dissolves. Bring the mixture to a boil, then reduce heat to medium and simmer, stirring occasionally for 1 minute.
Remove the pan from the heat and let the jalapeño mixture stand for 20 minutes. Pour the mixture through a fine-mesh strainer into a small container; discard solids.
Combine the jalapeño simple syrup, tequila, lime juice and orange juice in a pitcher. Refrigerate until cold—about 1 hour. Pour into ice-filled glasses and garnish with a jalapeño slice if desired. Serve immediately.
7-Day Vegan Meal Plan
On to your 7-day plan! Here, you'll find the next 7 days laid out for you. Many of the recipes can be found above—roasted almonds (snack), tofu tacos (dinner), quinoa salad (lunch), tofu scramble (breakfast), veggie spaghetti (dinner) and a much-deserved jalapeño margarita to celebrate your week of healthy eating! For our list of Go Green Smoothies, click here.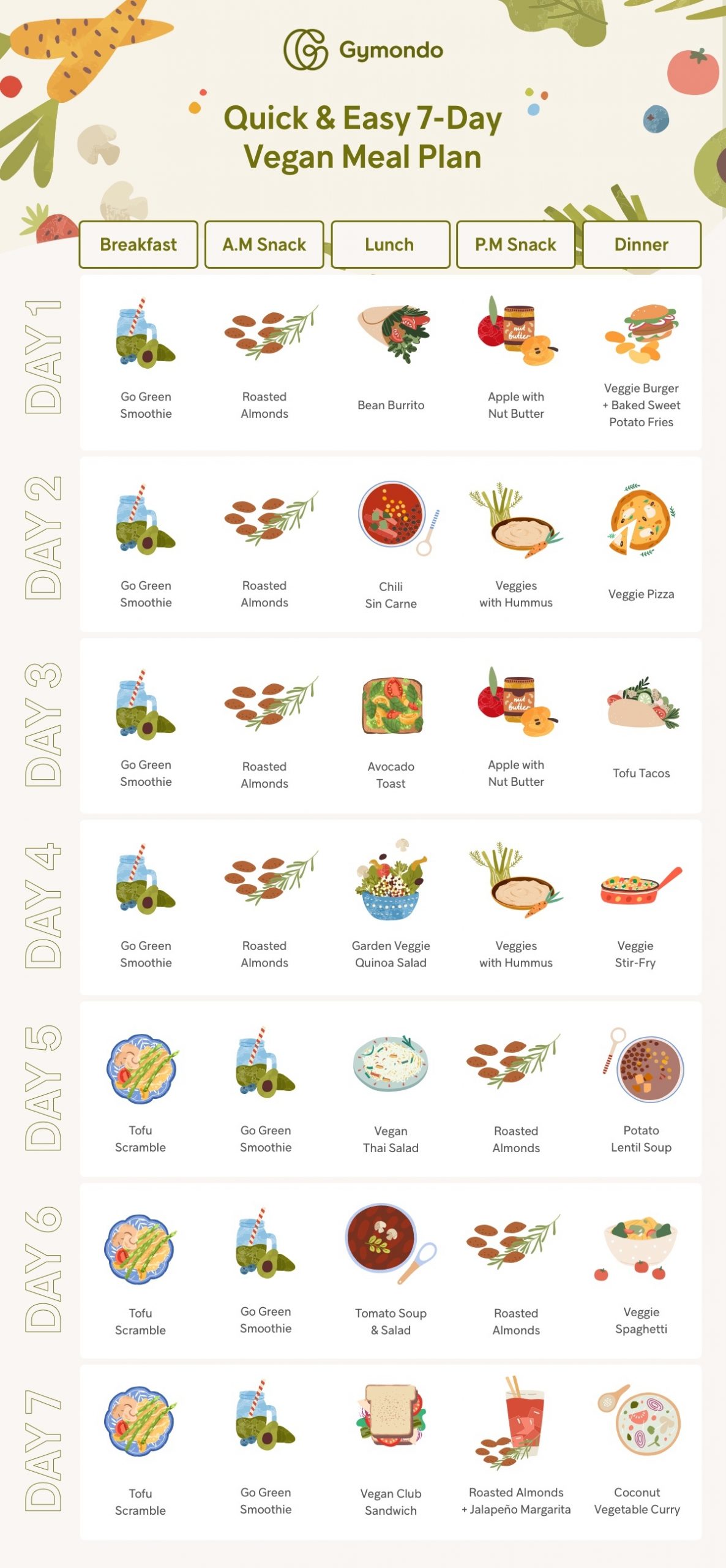 Let's break down each day, meal by meal. And be sure to click on the links below for the missing recipes.
Breakfast Recipes:
Days 1-4:
Go Green Smoothies (see recipes above)
Days 5-7:
Tofu scramble (see recipe above)
Lunch Recipes:
Day 1:
Day 2:
Day 3:
Day 4:
Garden Veggie Quinoa Salad (see recipe above)
Day 5:
Day 6:
Tomato soup + salad of choice
Day 7:
Dinner Recipes:
Day 1:
Veggie burger
Baked sweet potato fries
Day 2:
Day 3:
Tofu tacos (see recipe above)
Day 4:
Day 5:
Day 6:
Veggie spaghetti (see recipe above)
Day 7:
A.M. Snacks:
Days 1-4:
Roasted almonds (see recipe above)
Days 5-7:
Go Green Smoothies (see recipes above)
P.M. Snacks:
Days 1 & 3:

Apple with nut butter of choice—peanut butter, almond butter, cashew butter, etc.
Days 2 & 4:

Veggies of choice—celery, carrots, tomatoes, broccoli, etc.—with hummus
Days 5-7:
Roasted almonds (see recipe above)
Life After the 7-Day Vegan Challenge
Don't let your vegan journey stop after just 7 days. Let these recipes become a staple in your daily life and keep adding more to the mix!
Find 100s of healthy vegan recipes in the Gymondo app. Start your free trial today and explore over 290 delicious vegan recipe ideas. From breakfast and lunch to dinner and snacks, you'll find a healthy option for whatever you're craving.