Your next virtual sweat sesh is worth preparing for!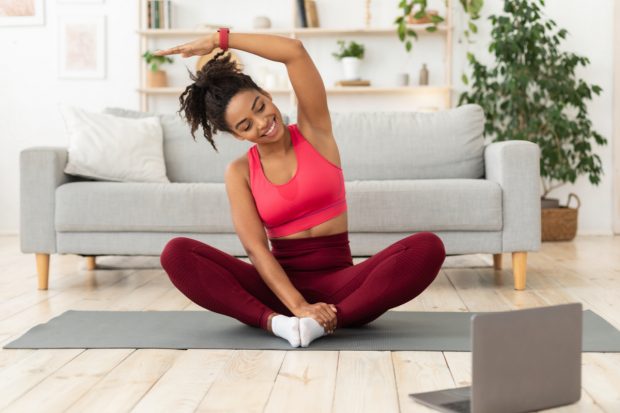 With gyms still closed, fitness remains online. If virtual training wasn't something you were into pre-pandemic, it's worth considering now. According to research, home fitness app downloads have grown globally by 46%.
While virtual training isn't nearly as costly as expensive gym memberships or personal trainers, it has its pitfalls. The motivation to work out consistently from home can be challenging, especially if you're accustomed to training at the gym.
Real talk: Working out through a screen is undoubtedly different but different isn't necessarily worse. There are numerous benefits to working out virtually. Here are 5 tips and tricks to get the most out of your virtual training sessions.
#1 Find a Fitness App Catered to Your Goals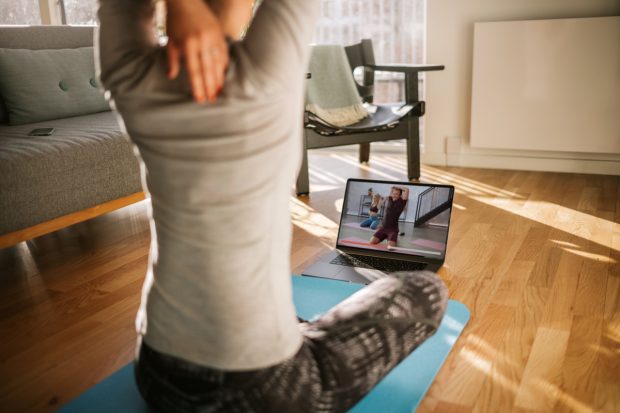 With so many fitness apps on the market, it's hard to determine what's right for you. Here are a few tips that can help:
Look for a fitness app that suits your specific health and fitness needs. To do this, you must first determine what your health and fitness goals are. Are you only interested in eating better? Or is your goal to lose weight through regular workouts? Many apps are specifically tailored for one goal. For example, one app may provide meal plans while another only offers fitness programs. Choose the app that meets your primary goal.
Read the ratings and reviews before trying a fitness app. Before downloading the app, it's important to read through the ratings and reviews to see what other customers say. This can help you determine if the app will meet your needs and help you reach your goals. A good place to start is the app store.
Decide how much you're willing to spend on an app. Before splurging on a fitness app, determine your budget. While you may find some free apps out there, most come with a cost. The good news is, fitness apps are much more affordable than traditional gym memberships.
#2 Be Flexible With Your Fitness Goals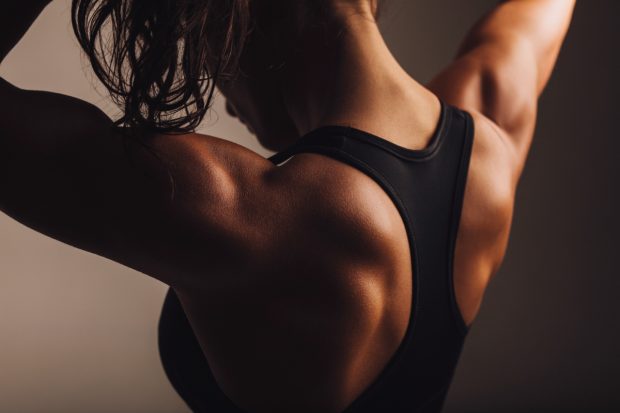 Before starting your virtual training program, write down your goals and make sure they're measurable. For example, "losing weight" isn't measurable.
Related: Set SMART Fitness Goals to Reach Your Full Potential
A measurable goal would look something like this:
"I want to lose 5 pounds in 30 days." Measurable goals help you quantify your progress.
You can get even more specific by setting mini-steps along the way—daily, weekly or bi-weekly goals. Here's an example:
"I want to lose 2 pounds per week." Whatever your goal may be, you should have a quantifiable way of knowing when you've reached it.
While the virtual setting might not feel like it's as conducive to create new fitness goals, working out with an online fitness app is easy, approachable and trackable.
#3 Look at Your Progress in a Different Way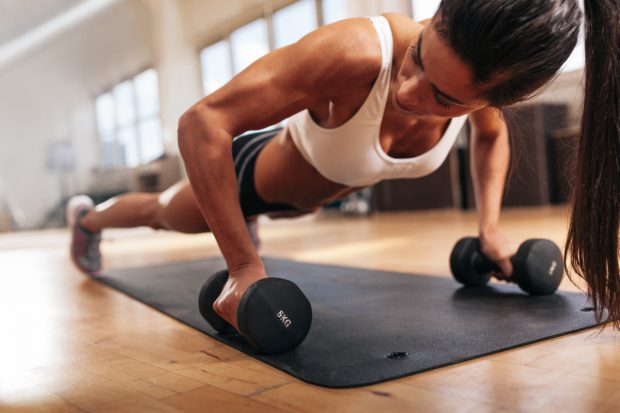 Once you set your fitness goals, determine what fitness equipment you need. Most fitness apps have a variety of bodyweight programs to choose from. But if you have the financial means, you may want to consider investing in a set of dumbbells, resistance bands and a mat.
Determining your goals will help you decide what equipment you need. For example, if your goal is to gain strength, you'll definitely want to consider investing in two or more sets of dumbbells. But if your main goal is to lose weight, you might not need much more than your own body weight.
Even if you invest in some dumbbells and resistance bands, chances are the equipment you purchase won't be as robust as what you're accustomed to at the gym. That's where flexibility comes in. You'll want to find an app that offers multiple ways of getting stronger or losing weight without needing tons of equipment.
The bottom line: you don't need fancy equipment to reach your goals. You can use your own body weight as resistance. With as little as a pair of 2-pound dumbbells and a resistance band, you'll see tons of progress because of the variety of training offered through fitness apps.
#4 Set Up Your Workout Space for Success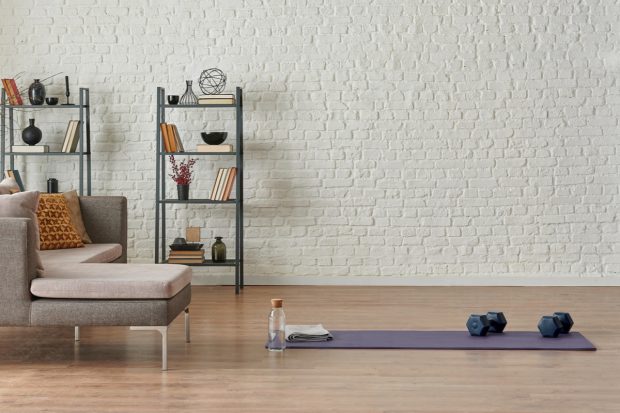 It can be challenging to create a workout space from home, especially if you live in a small apartment or share a flat with roommates. But taking the time to reorganize your space and finding that sacred spot for your virtual sessions can make a huge difference in your training success.
Related: 5 Tips to Stay Motivated to Work Out From Home
You'll want an arms length of space all around you, so you can extend your arms to the side without hitting any objects. Additionally, you'll want enough space to lie flat on your mat while reaching your arms overhead.
Most importantly, choose an area of your home that's calming and makes you feel good. If you don't have access to a spare room you can solely dedicate to working out, find a spot where you can easily lay out your mat (and equipment, if needed).
#5 Find a Supportive Virtual Community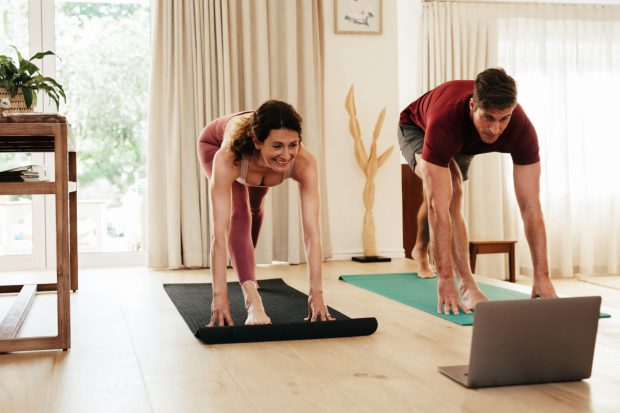 There's no question—training at home can feel isolating. But connecting with like-minded people can keep you motivated to push through. Teaming up with a supportive community can boost your motivation and self-esteem. And a bit of friendly competition doesn't hurt—it can help push you along in your fitness journey.
Fitness apps like Gymondo offer community support groups through Facebook and Instagram, where you'll find valuable tips and tricks on everything health and fitness, plus delicious (and healthy) recipe ideas. Share your wins and frustrations with other supportive group members in a safe and shame-free environment.
---
Whether your goal is to lose weight, gain strength, get toned or increase your flexibility, Gymondo has a program that's right for you. Explore 30+ fitness programs and 1000+ recipes to reach your health and fitness goals. From HIIT to strength training, cardio and yoga, there's a program right for you and your level. Start your free trial today.