Eating healthy holiday meals shouldn't leave you feeling like the Grinch at the dinner table.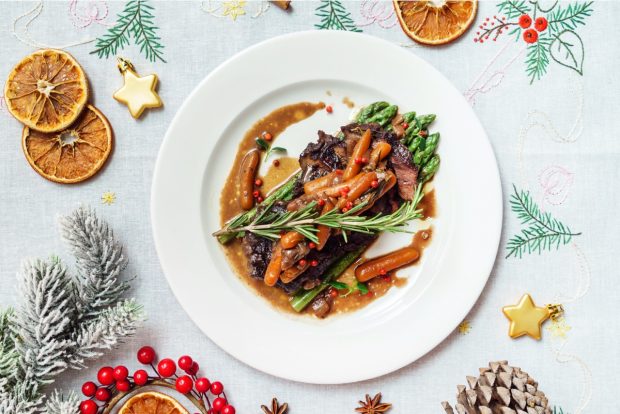 Don't worry—striking a balance between coma-induced food and eating like a rabbit is possible. Prepare your New Year's resolutions a bit early this year with our healthy 5-course meal perfect for your weight loss goals. Trust me, your dinner guests won't even notice they're eating something healthy!
First Course: Butternut Squash, Cranberry and Goat Cheese Crostini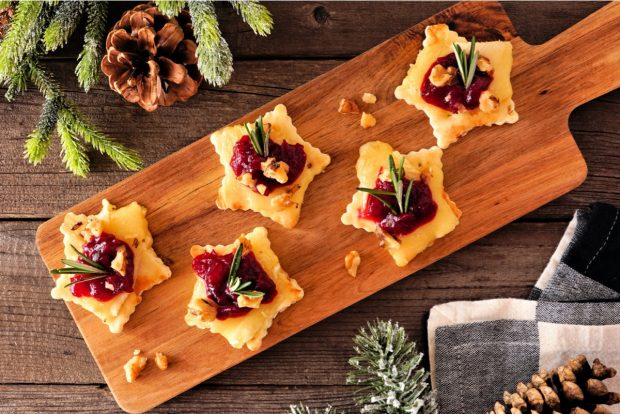 Impress your dinner guests with a healthy and easy-to-make starter. Picture this—tender butternut squash, succulent cranberries and creamy goat cheese atop a delicious sourdough baguette.
Serves 8-10

Ingredients:
2 ½ tablespoons extra virgin olive oil
1 (12") sourdough baguette, thinly sliced (¼" pieces)
4 ounces goat cheese, softened

For the topping:
1 ½ tablespoons extra virgin olive oil
1 shallot, minced
1 ½ cups peeled and diced butternut squash (¾" cubes)
2 garlic cloves, minced
½ cup dried cranberries, roughly chopped
2 ½ tablespoons minced thyme
salt and pepper to taste
Instructions:
Set out the goat cheese to soften while chopping the butternut squash.
Preheat oven to 375° F. Slice the baguette thinly.
Coat each side of the sliced baguette pieces with 2 ½ tablespoons olive oil. Sprinkle with salt and pepper.
Bake in the preheated oven for 5 minutes, then flip each sourdough piece and continue to bake for an additional 3 to 4 minutes. Remove from oven and set aside.
For topping: Pour 1 ½ tablespoons oil into a large skillet and place over medium heat. Add shallots and sauté for 2 minutes, stirring frequently.
Add squash and continue to sauté for 4-5 minutes. Add garlic and 2 tablespoons of thyme and stir together.
Cook for 5 minutes, then add cranberries. Season with salt and pepper to taste.
Cook an additional 4 to 10 minutes or until squash is fork-tender.
To assemble: Spread goat cheese onto each crostini and top with a spoonful (or two) of the squash mixture. Press it slightly to make it stick. Sprinkle with thyme and serve!
Second Course: Jerusalem Artichoke Soup With Wild Mushrooms and Truffle Oil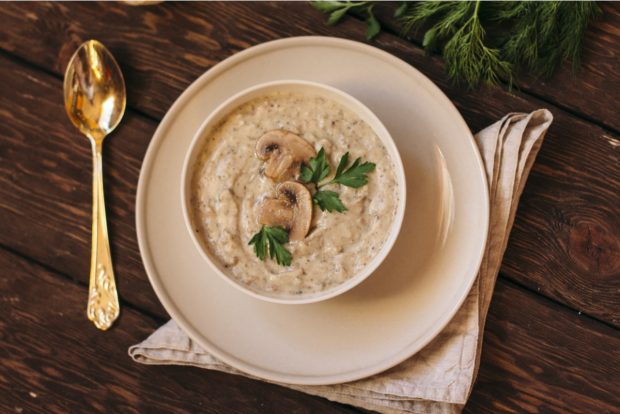 If you've never tried Jerusalem artichoke soup, it's high time you did! With its nutty, earthy, yet slightly sweetish taste, this healthy and delicious soup is a perfect addition to your holiday menu!
Serves 4
Ingredients:
1 pound Jerusalem artichokes
3.5 oz mixed mushrooms of your choice
1 onion
2 cloves garlic
½ cup coconut milk
dash of white wine
½ lemon
4 cups vegetable stock
fresh thyme
fresh rosemary
fresh parsley
truffle oil
Instructions:
Clean the Jerusalem artichokes and cut them into cubes. Cut the mushrooms into strips and chop the onion and garlic. Wash the fresh herbs.
Place a large pan on the stove over medium heat. Add olive oil and fry the onion and garlic. Pick the sprigs of thyme and rosemary and put them in the pan.
Squeeze half the lemon into the pan and add a good dash of white wine. Add the Jerusalem artichokes and the stock. Bring to boil and let it continue to simmer over low heat for 20 minutes.
Heat a skillet over medium heat. Add olive oil and fry the mushrooms.
When the Jerusalem artichokes are finished, let cool.
Place Jerusalem artichokes in blender and grind everything into a smooth soup. Place back on the stove and stir the coconut milk in. Add salt and pepper to taste. As soon as the soup starts bubbling, it's ready to serve.
Chop the parsley and place a pile of mushrooms in each soup bowl. Scoop the soup around the mushrooms making sure they're still visible. Sprinkle a bit of parsley over the soup and add a dash of truffle oil in a circular motion. Enjoy!
Third Course: Rosemary Macaroni and Cheese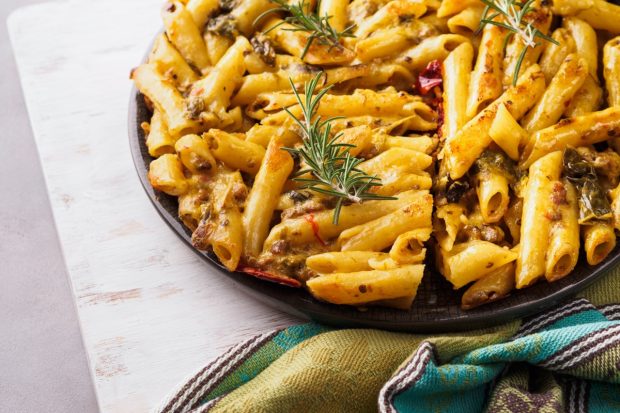 Macaroni and cheese is arguably the quintessential comfort food, but this rosemary-infused masterpiece brings the dish to a whole new level. And guess what? It's healthy! Please your family and friends with this hassle-free holiday classic.
Serves 8
Ingredients:
1 tablespoon extra virgin olive oil
1 pound whole-wheat rigatoni
1-quart low-fat milk
½ cup low-fat sour cream
2 tablespoons fresh rosemary
1 clove fresh garlic, crushed
8 ounces goat cheese
2 cups pre-chopped broccoli florets
chopped parsley
½ cup pine nuts
salt and pepper to taste
Instructions:
Roast the pinenuts on the stove until golden brown. Wash and chop the parsley. Crush the garlic.
Place a large pot of salted water over high heat and bring to a rapid boil. Add the olive oil and rigatoni to the water and cook according to the directions on the package—10 to 12 minutes.
While you're waiting for the water to boil, pour the milk and sour cream into a large saucepan over medium heat. Add the rosemary and garlic to the mixture and bring it to a simmer.
Stir in the goat cheese and broccoli, and continue cooking until the creamy mixture coats the back of a spoon.
Drain the pasta and add to sauce. Coat the pasta in the sauce and simmer over low heat until done. Add salt and pepper to taste.
Sprinkle pine nuts and parsley on top. Serve hot.
Fourth (Main) Course: Beef Tenderloin With Roasted Brussels Sprouts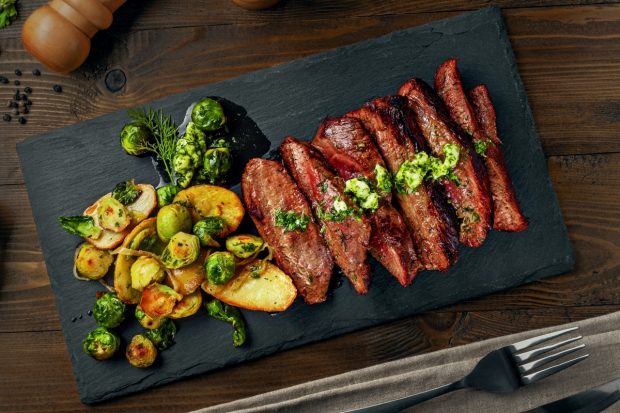 If you're craving a holiday-worthy main course that is both impressive and easier to make than the classic turkey or ham, look no further! I'm talking thinly sliced and juicy beef tenderloin served with melt-in-your-mouth brussels sprouts with a side of creamy horseradish sauce. This one's an award-winner!
Serves 8
Ingredients:
2 cloves garlic
2 tablespoons fresh parsley
1 tablespoon fresh thyme
1 teaspoon fresh sage
3 tablespoons olive oil, divided
1 tablespoon Dijon mustard
2 teaspoons kosher salt, divided
½ teaspoon freshly ground black pepper, divided
1 (3-pound) center-cut beef tenderloin
1 pound brussels sprouts
8 ounces cremini or white button mushrooms
2 large shallots
1 medium lemon
2 tablespoons finely grated Parmesan cheese
¼ cup low-fat sour cream
2 tablespoons low-fat mayonnaise
1 tablespoon horseradish
½ cup chestnuts
Instructions:
Roast chestnuts until golden brown and set aside. Place 2 garlic cloves, 2 tablespoons fresh parsley, 1 tablespoon fresh thyme and 1 teaspoon fresh sage in food processor or blender. Pulse 5 to 7 times until finely chopped. Add 1 tablespoon olive oil, 1 tablespoon Dijon mustard, 1 teaspoon kosher salt and 1/4 teaspoon black pepper and pulse 1 to 2 times until combined into a paste.
Trim the beef tenderloin of surface fat and silverskin. Pat the tenderloin dry with paper towels and rub the herb paste over the entire roast, then place in the center of an ungreased rimmed baking sheet. Set aside at room temperature for 30 minutes.
Trim and halve the brussels sprouts, halve the mushrooms and thinly slice the shallots. Finely grate the zest of 1 lemon, grate 2 tablespoons Parmesan cheese and place together in a small bowl. Thinly slice 1/2 the zested lemon and set aside for serving. Refrigerate everything until ready to use.
Juice the remaining lemon half until you have 1 tablespoon juice and place in a small bowl. Add 1/4 cup sour cream, 2 tablespoons mayonnaise, 1 tablespoon horseradish and 1/2 teaspoon kosher salt and whisk to combine. Cover and refrigerate until ready to serve.
Arrange a rack in the middle of the oven and heat the oven to 425°F.
Add the remaining 2 tablespoons olive oil and 1/2 teaspoon kosher salt to the Brussels sprouts mixture, and toss to combine. Transfer to the baking sheet and arrange in an even layer around the beef tenderloin.
Roast until an instant-read thermometer inserted into the center of the tenderloin registers 125 to 130°F for medium-rare—25 to 30 minutes.
Transfer the tenderloin to a clean cutting board, cover loosely with aluminum foil and set aside to rest for 10 minutes. Continue roasting the vegetables until tender and browned on the bottom, about 5 minutes more. Sprinkle the vegetables with the chestnuts, lemon zest and Parmesan cheese and toss to combine.
Slice the tenderloin and serve with the roasted brussels sprouts and lemon-horseradish sauce. Garnish with lemon slices and chopped parsley if desired.
Fifth and Final Course (Dessert): Cacao Pavlova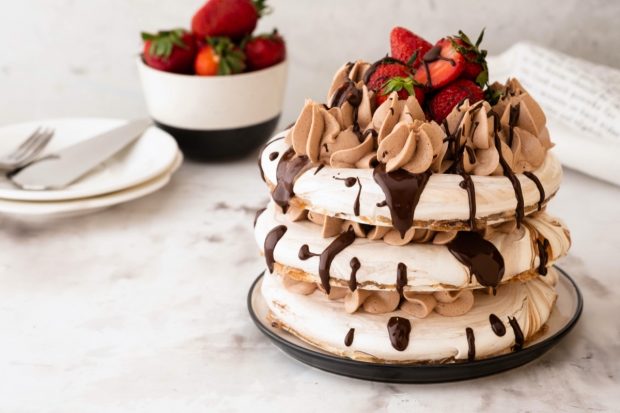 While there are 1000s of holiday desserts to choose from, this one will definitely rock your world! And why deny yourself the pleasure of a decadent holiday treat? This cacao pavlova may be low in sugar, but it still has the same yum factor as the traditional version!
Serves 10
Ingredients:
3 egg whites
pinch of cream of tartar
¼ cup caster sugar
⅓ cup raw caster sugar
1 tablespoon raw cacao, plus extra, for dusting
1 ¼ cup low-fat whipped cream (Cool Whip)
½ cup Greek yogurt
1 teaspoon vanilla bean paste
1 cup raspberries
2 cups strawberries, sliced
1 cup cherries, halved
fresh mint leaves
Instructions:
Preheat the oven to 250°F. Trace a 20cm circle onto a baking paper sheet. Place on a large baking tray.
Whisk the egg whites by hand or with an electric mixer in a small bowl. Add cream of tartar. Beat until soft peaks form. Gradually add caster sugar—1 tablespoon at a time—and beat well after each addition until meringue is thick and glossy and sugar has almost dissolved. Add raw sugar in the same way. Add 2 teaspoons cacao and beat until smooth.
Spread the mixture over the circle on tray. Bake for 55 minutes or until meringue is crisp and pale. Turn oven off and leave the pavlova in the oven to cool.
Transfer the pavlova to a plate. Place whipped cream or cool whip in a large bowl and fold in yogurt and vanilla. Sift in the remaining cacao and gently fold through to give a marbled effect. Spoon cream mixture onto the pavlova. Top with berries and cherries to decorate. Scatter with small mint leaves, if desired.
And there you have it. Your delicious and nutritious 5-course holiday meal!
Holiday Dinner Is Served
The holidays are a time for indulgence, but that doesn't mean you have to let your healthy eating habits slip. This "better-for-you" 5-course holiday meal tastes delicious while remaining perfect for your weight loss goals.
Couple this holiday meal with our 30-day holiday hustle and you'll be ringing in the New Year looking great and feeling fantastic!
---
Need more inspiration? Explore 1000s of delicious and easy-to-make recipes in the Gymondo app.