"Gymondo has changed my entire life. Not only have I almost reached my goal weight that I have wanted for so long, but I also learned how to eat properly; instead of going on diets, I altered my diet. I'm really fit again and also athletic," said Ann-Katrin.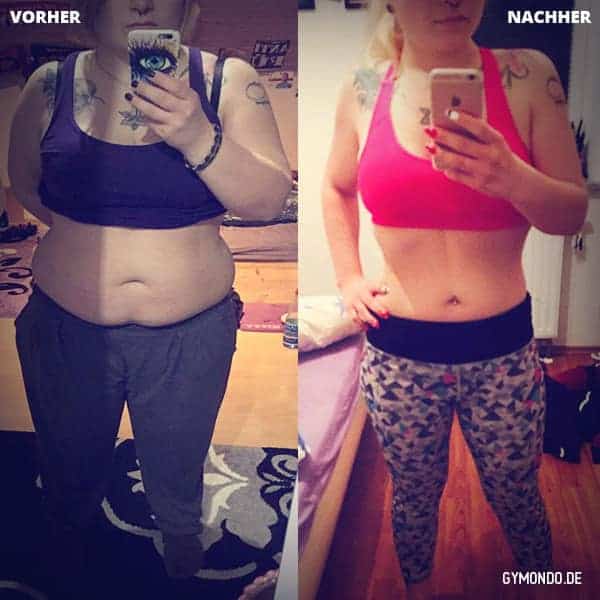 From almost 200 pounds, Ann-Katrin is now down to 134. Yes, that's the same person!
Why did you start to exercise again and choose Gymondo?
I simply did not feel good in my body anymore. I have been overweight most of my life and have been told that many times, which hurt me a lot.
I was sick and tired of it all and wanted to change something! I was looking for something to do at home where I would not be embarrassed by others. Then I saw the ads for Gymondo, tried it for free for a week, and didn't want to stop.
What made you commit to it?
My desire to finally feel good again. I was motivated by the success stories of the others and I thought I could do that too!
What did your diet consist of?
I stuck very close to the Slim in 10 Weeks diet.
But since I wanted to reach my goal faster and I'm very impatient, I put a lot of emphasis on going low carb. I mostly used the recipes of Gymondo though I sometimes changed them up. Above all, I avoided the "Forbidden Three."
Which specific Gymondo program did you do?
I started with Slim in 10 Weeks. I have since switched programs and am doing the workouts for Bikini Body and Body Transformation in combination with the Low Carb diet. Currently, I'm doing the program to tackle my last problem areas.
What did training do for you?
Gymondo has changed my entire life. Not only have I almost reached my goal weight that I have wanted for so long, but I've also learned to eat properly. I'm really fit and athletic now.
Everything in my life has gotten easier, from walking upstairs, to running to catch a train, to finding clothes that fit, to feeling comfortable in summer clothing and countless other situations! The people around me are so incredibly positive about my change. And everyone who asks me how I did it, I tell them it's all thanks to Gymondo.
What were your results?
I'm currently down 62 pounds! From a tight squeeze into 40-42 to an easy 36-38. From a L/XL tee to a size S.
Of course, with such a large weight loss stretch marks are inevitable. But I'm proud of it now and my friend thinks it's great. That's how you see the success!
Ann-Katrin's successes with Gymondo
| | | |
| --- | --- | --- |
| Height: 5 ft. 2 in. | Before Gymondo | Now |
| Weight | 196 lbs. | 135 lbs. |
| Belly | 42.5 inches | 33.5 inches |
| Waist | 36 inches | 30 inches |
| Thigh | 26.5 inches | 19 inches |
| Upper arm | 14.5 inches | 10 inches |
| Pants size | 40 / 42 | 36 / 38 |
| T-shirt size | L / XL | S |
What was your best experience/your biggest success?
My best experience was when I stood in front of the mirror in my underwear and I finally found myself pretty and attractive! As a reward, I got the belly button piercing I've been wanting for so long.
My greatest success was when I put on a short jumpsuit and it just looked awesome. Of course, the feedback from others has made me infinitely happy, especially my dad's. He is so happy that I've managed to lose so much weight and finally start living a healthy life.
What advice would you give to others?
Never give up! Even if it's exhausting and the scale sometimes shows more weight, continue, it'll be worthwhile! It just takes time.
How did you deal with the times when your progress slowed down?
At first, I was very frustrated and my family and friends sensed my bad mood. I was sometimes very impatient. But in the end, my boyfriend constantly supported me and reminded me to not give up. So I carried on and did it.
How long did it take to achieve your current weight?
I started my first weight loss attempts in February 2015 and then in April 2015 with Gymondo. So 62 pounds in 16 months.
What tip do you have for others who want to lose weight?
Start now! Think carefully WHY you want to lose weight. Keep this in mind when you feel like giving up. Then you just have to get to it!
Losing weight is difficult, it takes a long time, and it requires commitment.
BUT you will feel so incredible after every single exercise and every time you skip the sweets or alcohol will eventually pay off.
If you can't do it on your own, get support and lose weight with a friend or find a certain person who can motivate you time and again… You can do it!!
Now it's up to you!
Ann-Katrin changed her complete life with Slim in 10 Weeks and became fit and happy! Start with your own home workouts and hundreds of healthy recipes on your path to a fitter life!