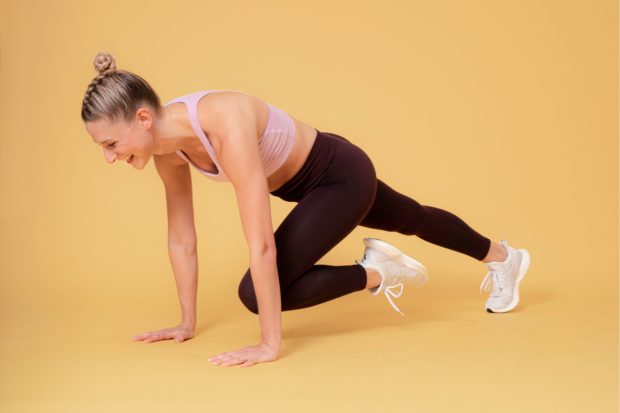 Yep, 2020 was quite a year! If your gym closed and you were forced to work out from home, you might have noticed that some bodyweight exercises were just as challenging as training with weights. According to research, bodyweight training and weight training are equally effective when it comes to building muscle.
But not all bodyweight exercises are created equal. We're guessing you'd like to know which bodyweight moves are the best to build strength. In this article, we've collected the best strength-building bodyweight exercises and put them in an easy-to-follow workout you can do from home.
The 8 Most Effective Bodyweight Strength Exercises
Here are the 8 best bodyweight exercises to build strength. When combined, this list of exercises will give you a complete full-body workout.
#1 Push-Ups
Push-ups are a great bodyweight exercise to improve upper body strength. There are dozens of variations to choose from—elevated, traditional, rotational, clapping, crossover—to build muscle mass, endurance and strength.
#2 Tricep Dips
Tricep dips are one of the best bodyweight exercises to build lean muscle in your upper body and increase your arm strength. If you don't have access to dumbbells, place your palms on the floor with your fingers pointed toward your feet.
#3 Squat Jumps
Squat jumps rank near the top of the list for developing explosive power and strength. Why? Explosive movements like squat jumps target your fast-twitch muscle fibers which assist in building muscle.
#4 Burpees
Burpees are the ultimate full-body exercise, engaging multiple muscle groups at once. This complex movement tests your strength and cardio capacity simultaneously.
#5 Knee Tucks
To build deep core strength, abdominal exercises should not be rushed, so take your time with this one. Trade in crunches for knee tucks to activate more core muscles under increased tension for bigger gains.
#6 Pistol Squats
Pistol squats aren't easy but master them and you'll soon benefit from bigger, stronger, more mobile muscles. This unilateral movement works absolutely every muscle in your lower body, from your quads and hamstrings to your ankle and core stabilizers. To perform correctly, balance, coordination, control, strength and mobility are required.
#7 Mountain Climbers
Mountain climbers hit your entire body while keeping your heart rate up, making them one of the most effective bodyweight exercises around. By combining cardio and strength training, you'll work several different muscle groups at once.

#8 Sit-Ups
Sit-ups are a multi-muscle exercise targeting your abdominals, hip flexors, lower back and neck. Muscles are more metabolically active than fat. This means, the more muscle you have, the more fat you'll burn. In the long run, sit-ups help you build muscle and burn more calories.
Your Bodyweight Strength Workout
Now that you know the best bodyweight exercises to build strength, you're ready for the workout! We've created a zero-equipment full-body strength workout just for you.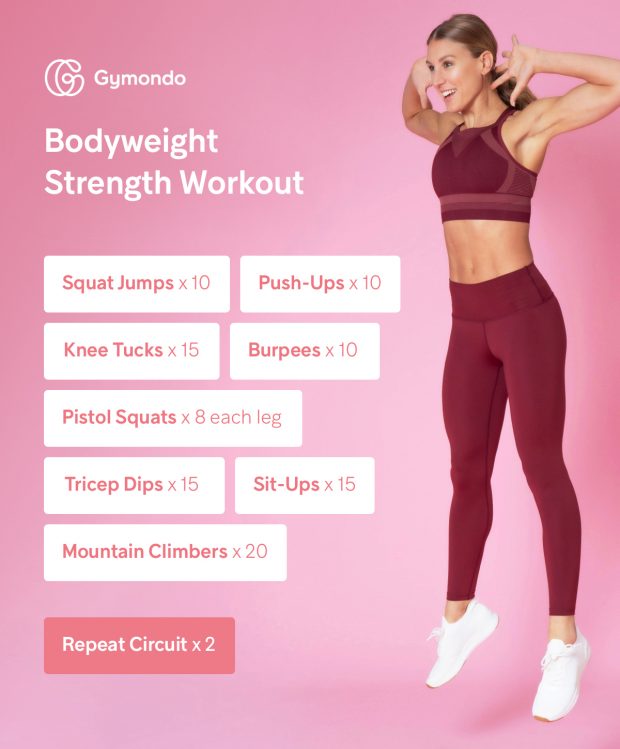 ---
Start your free trial with Gymondo and explore a huge variety of bodyweight strength programs plus 1000s of healthy and delicious recipes.