Join Vogue Williams for a truly unique 6-week training programme.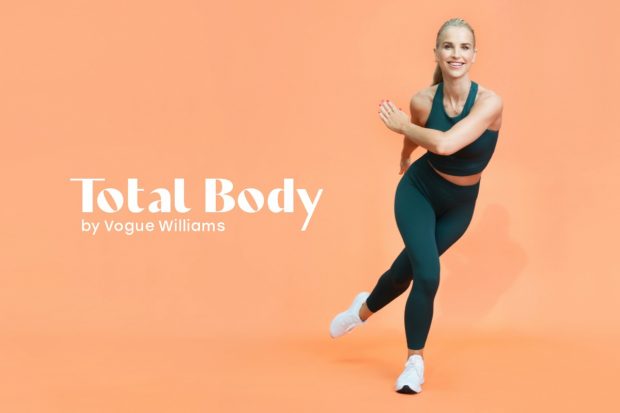 Irish model. Media personality. Mother of two (with one on the way). What hasn't Vogue Williams accomplished?
Now, she can add her very own training programme to her list of achievements. With the help of her trainer and long-time friend, John Belton, the power duo have created Total Body by Vogue Williams, a 6-week training programme to help you become your most confident and badass self—inside & out!
Want in on Vogue's workouts? You can. Here's everything you need to know about Total Body by Vogue Williams.
Vogue's Toning and Cardio Programme
Working out at home gives me the chance to integrate some me-time into my routine. It's fun and breaks up my day!

Vogue Williams
Vogue loves training from home and frequently shares her workouts on IGTV. With the knowledge that so many other women also love training at home, she collaborated with Gymondo to produce exclusive cardio and toning workouts you can't get anywhere else.
Over the next 6 weeks, you'll train alongside Vogue to a huge variety of 30-minute bodyweight workouts. She's packed it with her all-time favourite toning and cardio exercises to leave you feeling empowered and confident after each session. So, get ready to be your fittest, strongest and most confident self with Vogue as your guide!
Why Does Vogue Williams Exercise?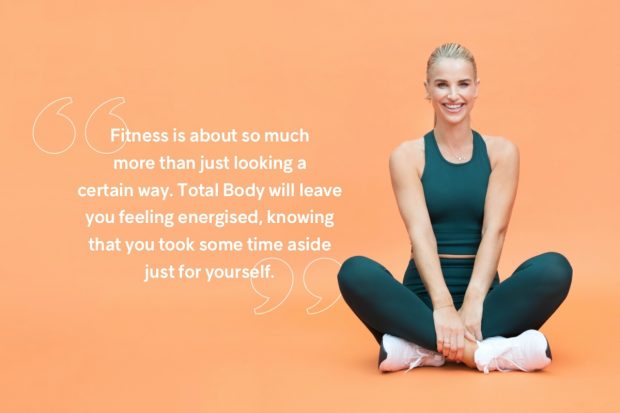 Exercising is an important component in Vogue's life. It helps her tackle anxiety and stress. Plus, she loves those post-workout endorphins. She hopes to inspire others with her workout routine and empower women worldwide to feel their best—inside and out.
Vogue is proof that working out from home doesn't have to be complicated—all you need is a mat to get it done! And she totally gets it—with a busy schedule and kids, it's often hard to find the time for exercise. Now, you can train from home or on the go with Vogue and John, who will leave you in stitches with their playful banter.
Her MO is taking the piss out of John, but he dishes it right back! It's magical to watch. But when it comes to working out, she means business. Their energy is high and the workouts are fun. What more could you ask for?
Why Train With Vogue Williams?
Perfect for Busy Schedules
In the time that it would take you to drive to the gym, you'd already be finished with one of Vogue's favourite workouts. Now, you can work out and still have time to take care of everything else going on in your busy life.
Perfect for Beginners
Come as you are! It doesn't matter if you're an absolute beginner or if working out comes second nature to you. Total Body by Vogue Williams is perfect for all fitness levels. Go at your own pace and reap the benefits of this highly effective training programme.
Perfect From Home
No equipment necessary. Just grab a mat and get it done from the comfort of your home. For optimal results, Vogue recommends 3 workouts a week for the next 6 weeks.
---
Whether in front of the camera or behind the mic, Vogue Williams is a laugh a minute. So, if you've been looking for a never-boring mix of workouts that will leave you feeling great in just 30 minutes, join Vogue for this truly unique 6-week training event!