Trying to snag every Gymondo Activity Badge? Here's a full list of every achievement and what you need to do to get 'em!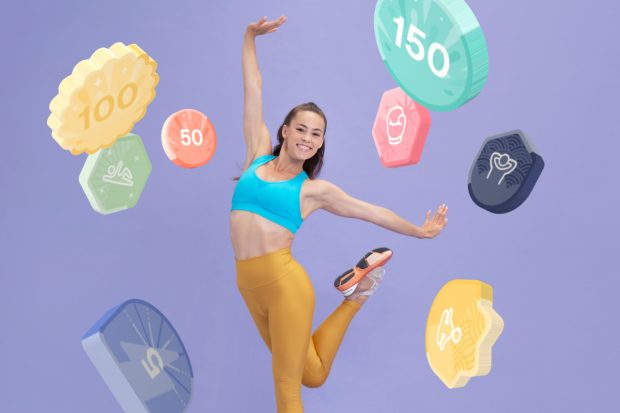 Activity badges are a funny thing. I mean, you're totally aware that they're just visual flair, but you really want to snag 'em all. Badges are great motivators and inspire many Gymondo users to get in more workouts.
If you want to maximize your badge count, you've got to chase down as many Gymondo achievements as humanly possible. Here's a list of all Gymondo activity badges and how to unlock them.
Gymondo Workout Badges
Badges are personalized reminders of your fitness milestones to help keep you motivated and stay on top of your goals. Unlock workout badges after completing 1, 10, 25, 50 and 100 workouts.
But what happens after you reach 100? You'll earn additional badges after every 50th workout until your 500th training session. After you've reached 500, get rewarded after every 100th workout until you achieve 3000 training sessions. There are no words to describe your commitment if you hit 3000 workouts! You're in a class of your own.
Gymondo Style Badges
Variety is the spice of life and at Gymondo we've got a lot of it! Earn style badges by completing workouts from different categories. Cardio, HIIT, yoga, strength training, Pilates and more—the sky's the limit. You can earn up to 4 badges per category—Discovery, Rookie, Habit Builder and Superstar. Here's a breakdown of each category:
Discovery Badge
To earn a Discovery badge, complete one training session from your favorite workout category. In theory, you could earn a total of 12 Discovery badges because we have 12 different workout categories. Here's a full list of all the workout categories we offer in the Gymondo app.
Six-Pack
Cardio
Dance
HIIT
Strength Training
Toning
Abs, Legs and Glutes
Pilates
Yoga
Stretching
Relaxation
Beginner
Rookie Badge
If you're just getting started with Gymondo, you'll be labeled a Rookie. But not for long! Just keep sweating to move up a level and unlock more badges. After completing 5 workouts from 1 category—HIIT, yoga, cardio dance, etc.—you'll earn your very own Rookie badge.
Just like Discovery badges, you could earn a total of 12 Rookie badges from the 12 workout categories we offer in the Gymondo app. This means you would have to complete 5 workouts from each of the 12 workout categories to snag your badges.
Habit Hunter Badge
Earn a special Habit Hunter activity badge for hitting 50! By this point, you've gained the extra motivation needed to work out regularly and form long-lasting habits. This milestone is a personal reminder of all you've accomplished on your fitness journey.
Let's say you complete 50 HIIT workouts. Once you reach this milestone, you'll earn a special Habit Builder badge. If HIIT isn't your thing, complete at least 50 workouts from your favorite workout category to maximize your badge count.
Superstar Badge
When you hit your weekly "move" goal 100 times, you're awarded the honor of Fitness Star and will earn a very special badge. You'll unlock additional badges after every 50th workout until 500 and every 100th workout from 500 to 1000, 1500 and 3000 training sessions.
Let's say you can't get enough of our cardio workouts. Do 100 and you've burned to earn! Get your very own Superstar badge after completing 100 workouts from any of our 12 categories.
Start Collecting Badges!
What are you waiting for? Go snag your badge! Use them to stay motivated to reach all of your health and fitness goals.
---
Start your 7-day free trial with Gymondo and find the motivation you need to make fitness a habit. From activity badges to performance tracking and highly motivating coaches, we've got everything you need to succeed.