Get in the spooky spirit with these 6 Halloween-inspired exercises.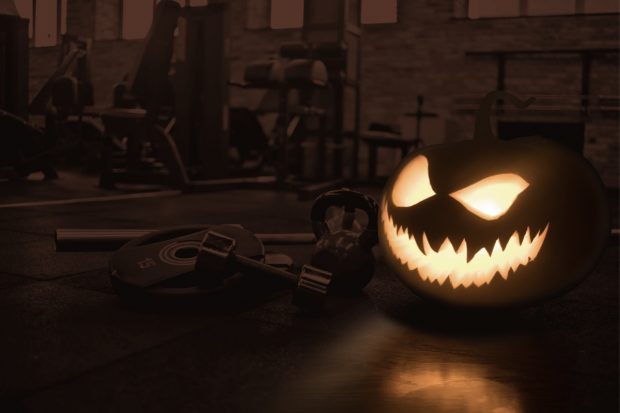 Ready for a horrifyingly healthy Halloween? If you're like me, you're more than ready to start incorporating Halloween-themed exercises into your workout routine. And what better time to do it? October 31st marks the return of your favorite creepy exercises.
Check out our top 6 Halloween-inspired weight loss exercises you can easily squeeze into your next sweat sesh to get into spooktacular shape!
Halloween-Themed Weight Loss Circuit
Maybe you're itching to get your trick-or-treat on, but while you wait, try this Halloween-inspired weight loss circuit and put a fun twist on your usual routine. It's up to you whether you want to use your own body weight or add dumbbells as an extra challenge.
From deadlifts to zombie kicks, these weight loss exercises will get you in the spooky spirit!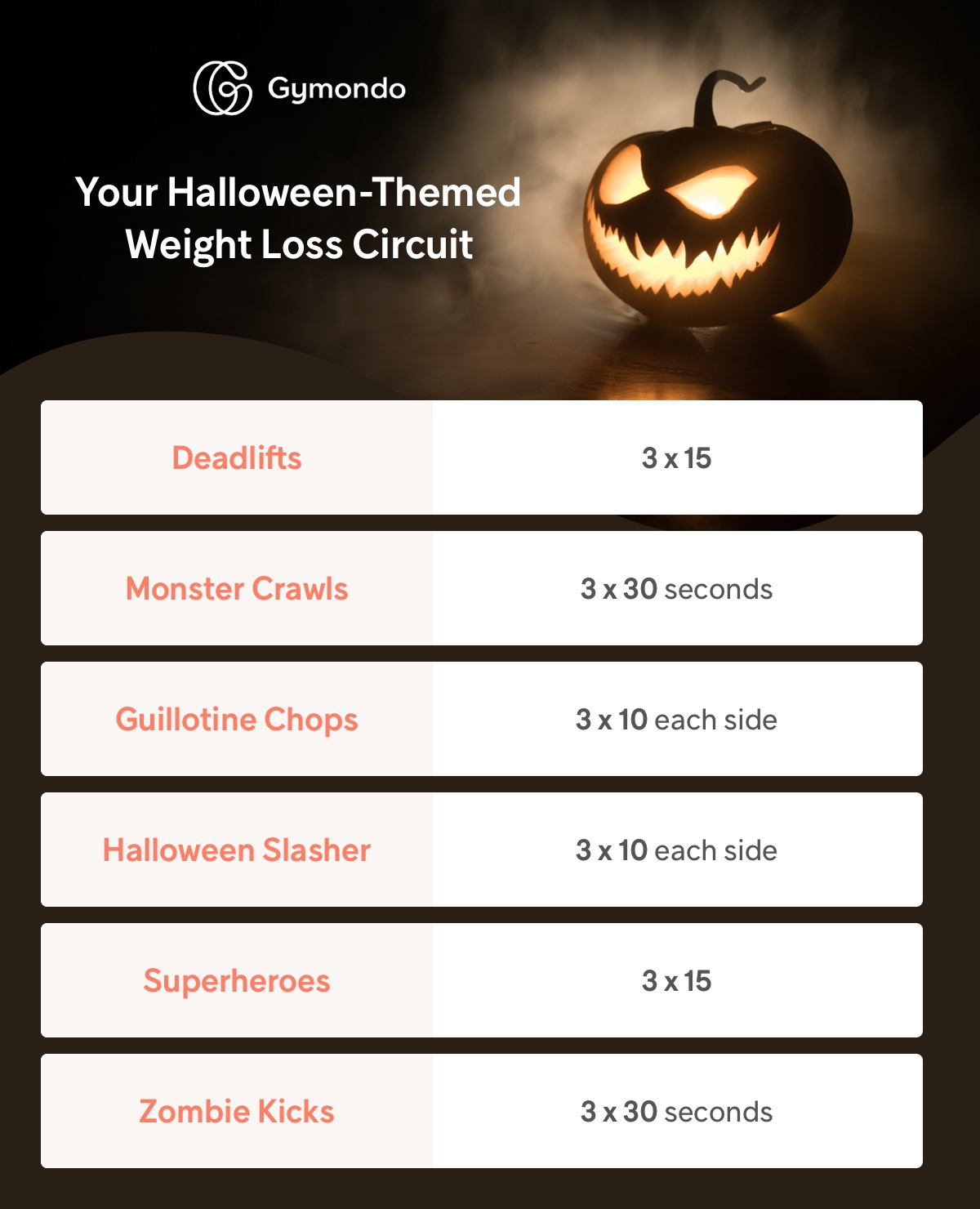 Deadlifts
While you probably won't raise the dead from this exercise, you'll certainly raise (and lower) your own body weight.
Here's how to raise the dead!
Start in a standing position with your feet hip-width apart and your shoulders retracted. If you perform this exercise with dumbbells, hold them in front of your thighs. For the bodyweight version, clasp your hands behind your head and keep your elbows out and horizontal to the floor.
On the descent of the movement, slightly bend your knees, while keeping your chest up, shoulders retracted and back straight.
Once your shoulders are in line with your hips (90-degree angle), return to the start position and repeat the movement.
*If you're unable to get to 90 degrees, just go as low as you can with proper technique. And if you experience any pain, stop immediately.
Be sure to engage your core and practice proper posture and technique during this lower back, glute and hamstring strengthening exercise. Add dumbbells for that extra challenge.
Warning: your legs might literally feel dead after this exercise, but luckily you won't die from it!
Monster Crawls
There's nothing more frightening than a creepy-crawly creature, especially on Halloween. No wonder monsters take the cake for the ultimate fear factor.
Why not channel your spooky vibes by adding monster crawls to your workout routine? Check out this killer move and scare your ghoulfriends. Make like a monster and crawl forward 4 times before crawling backward 4 times. Keep repeating until time expires.
Here's how to get your creepy-crawl on!
Start on all fours and lift your knees so they're at a 90-degree angle and hovering an inch off the ground. Keep your back flat, your legs hip-width apart and your arms shoulder-width apart.
Move one hand and the opposite foot forward an equal distance, while staying low to the ground. Complete this for a total of 4 reps (2 each side).
Repeat the same movement going backward.
Keep repeating until time expires.
Guillotine Chops
Feeling like Jason from Friday the 13th? Go ahead and slap on that eerie hockey mask and channel some of your Halloween-inspired energy with this killer move—minus the ax, of course!
Here's how to chop some heads (not literally, of course)!
Stand up straight and place your feet hip-width apart.
Rotate your torso to the left and raise your arms over your head, above your left shoulder.
Squat as you rotate your torso to the right and bring your arms diagonally across your body until they're close to the hip.
After completing all repetitions on the left side, switch to your right.
Add a dumbbell—not an ax— to make the exercise even more challenging.
Halloween Slashers
This arm sculpting exercise may have a spooky name, but it will get you the upper body gains you want. Add a few sets of Halloween slashers to your routine to build the upper body strength needed to carve out that pumpkin later on this evening.
Here's how to slash through your Halloween!
Kneel on your left knee with your right foot planted on the floor in front of you. Create a 90-degree angle with both of your legs.
Lean forward toward your front leg, with one dumbbell in your left hand.
Keeping your back straight, bend your dumbbell-holding arm (left arm) to 90 degrees at the elbow so your triceps are aligned with your back and your biceps are perpendicular to the floor.
Engage your core and your triceps and hinge at the elbow, lifting the dumbbell up and back as you try and straighten your arm. Your triceps should stay still—only your elbow moves.
Guide the weight upward until your arm is straight, pause, then lower back to 90 degrees. That's one rep.
Repeat all reps on the left and then switch to your right.
Don't have dumbbells? No problem! Use filled water bottles as an alternative.
Superheroes
No matter what you call this exercise, we could all use a little superpower. There's no better time than Halloween to release your inner superhero. Take your Halloween-inspired energy to the mat with this back-sculpting exercise.
Here's how to unleash your superpowers!
Lie face down on your mat with your arms outstretched.
Keep your hands and arms straight throughout the exercise.
Raise your hand and legs 4-5 inches off the ground at the same time.
Hold for 5 seconds at the top of the movement, then return to the starting position.
Zombie Kicks
This zombie-inspired move will not only increase the heart rate of trick-or-treaters (they'll be frightened by your presence), it'll get your own heart rate beating rapidly. Don't forget to activate your creepy core by squeezing it tight!
Dead-icate yourself to this move!
Begin standing with your arms extended straight out in front of your body.
While performing alternating straight leg kicks, simultaneously criss-cross your hands, alternating lead limbs.
---
You'll feel the burn during these Halloween-inspired exercises. So, why wait until Halloween to try them? Throw a few of them into your daily workout and Halloween will be here before you know it. For more spooktacular exercises, head to Gymondo.
Have any favorite Halloween-inspired exercises of your own? Share with us in the comments below!