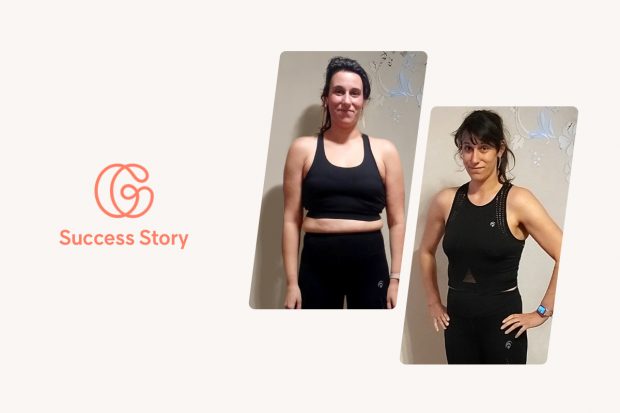 Between children, daily commitments and household chores, finding time for working out is no walk in the park. Power mom Mandy realized she'd had enough of feeling unhealthy and sluggish and decided to switch things up. With the help of Gymondo, she lost 18 pounds in 12 weeks and already feels like a new person! And she's just getting started. Here comes Mandy's success story.
Why did you start exercising?
"After years of struggling with an eating disorder, I finally wanted to eat better, exercise more and lose weight in a healthy way.
"Additionally, I was looking for a balance to my everyday life as a busy mom and housewife. Working out had always calmed me down, but due to the pandemic, I couldn't go to the gym, so I looked for an alternative. I was buzzing when I finally found Gymondo on Instagram."
How much weight did you lose?
"So far, I've lost 18 pounds in 12 weeks."
What's helped you integrate fitness and healthy eating into your everyday life?
"The Gymondo app has helped me so much. I also knew I needed to overhaul my entire diet, so I really focused on nutrition. When the children are in bed in the evening, I can do something good for myself and really focus on working out."
What do you like most about Gymondo?
"I particularly like the massive selection of training programs and recipes. I also enjoy training with the fitness celebrities Gymondo features on their platform."
Which programs and workouts do you use the most?
"I love doing Gymondo's toning and cardio programs."
How do you stay motivated, even in difficult times?
"I have always kept in mind that working out is the only way for me to get fit and healthy in the long-term. This is an incredible motivation that keeps me going, no matter what."
What are you most proud of?
"My network of support knows my history, so I was really happy about the positive feedback from my circle of friends. They're happy for me doing things the right way—without starving myself or yo-yo dieting."
How has your weight loss changed your life for the better?
"I'm fitter, more balanced, in a better mood and more mobile. It truly is a great feeling!"
What future goals have you set for yourself?
"After two pregnancies, my biggest goal is to finally get rid of my excess belly fat."
What advice would you give to someone who is just starting out on their fitness journey?
"Even if your muscles get super sore, keep at it. I promise, it will get easier and it'll be worth it!"
---
Ready to write your own success story? Start your free trial today and access 35+ training programs, 350+ workouts and 1000s of healthy recipes. And be sure to check out more weight loss success stories here.