Need some #fitspo? Look no further…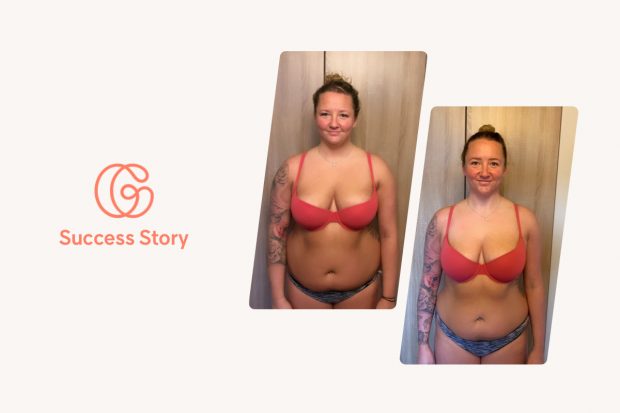 Major weight loss is totally possible — just ask Cindy, who revamped her habits to feel stronger and healthier than ever (without dieting). With the help of Gymondo, Cindy lost 22 pounds in 3 months. If Cindy can do it, you can do it too!
Why did you start exercising?
"Like many other women, my main goal was to lose weight. Not only that, my general fitness level was very low. I knew I had to get more active again.
"I felt really uncomfortable in my own body. It got so bad that I couldn't look myself in the mirror anymore. Something had to be done—I wanted to feel good again."
How much weight did you lose?
"Within 3 months, I lost a total of 22 pounds (10 kilos)."
What's helped you integrate fitness and healthy eating into your everyday life?
"I've got a great support system. My friends and family supported me throughout my journey. Plus, the pandemic gave me a lot of time to concentrate on exercise and nutrition."
What do you like most about Gymondo?
"The individualized workouts are great, the training plan incentivizes me to continue and the detailed schedule shows me exactly what days I should train.
"Additionally, I love the flexibility of the app. I don't have to train at a specific time, but can always fit workouts into the days and times that best suit my schedule."
Which workouts do you like the most?
"I love all of the cardio workouts. They're really fun."
How do you continually stay motivated?
"I continually think of my end goal—to lose weight and keep it off. Luckily, my small successes were visible soon after I started working out with Gymondo. Working out was fun from the beginning and not a chore. Now, it's easy to work out 4 times per week and eat healthy. It's an amazing feeling.
"I recently hung an old picture of myself (at my ideal weight) in my kitchen. From time to time, I look at that picture and challenge myself to get back to the place I once was. One of these days, I'll reach my goals and feel confident in front of the mirror once again."
What are you most proud of?
"I'm so proud that I lost 22 pounds in such a short time. For years, I've played club football [soccer], but now I move so much easier on the field.
"Not gonna lie—the compliments certainly help, too. That extrinsic motivation helps me to stay motivated to reach my goals."
How has your weight loss success impacted your life?
"My self-confidence has blossomed—I'm getting closer to how I used to look and feel and I'm happy I can finally fit into my old clothes once again."
What future goals have you set for yourself?
"I definitely want to lose another 20 to 30 pounds to reach my desired weight of 63 kg."
What advice would you give to someone just starting out on their fitness journey?
"Start slowly and find a program that you personally enjoy. Don't do too much at once because it can become all-consuming and exhausting. Just stay consistent. Even if an exercise or workout seems too difficult, there's always an easier alternative. The main thing is to stick to it!"
---
Now it's your turn to write your own weight loss success story! Start your free trial today and access 30+ training programs, 300+ workouts and 1000s of healthy recipes. And be sure to check out more weight loss success stories here.