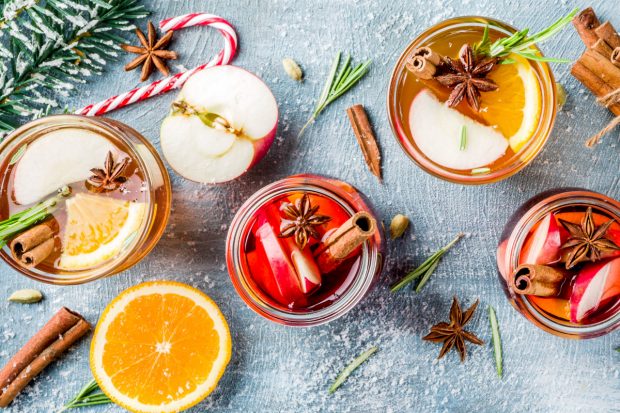 The holidays make for a perfect excuse to let your hair down. But the last thing you want to do is sabotage all of the hard work you've put in leading up to the big day. You deserve to have some fun without derailing your fitness goals.
The good news is—you can! Check out these 8 low-calorie cocktail and mocktail recipes that are so festive and tasty, you'll never feel left out of the party. So relax and have another round.
Holiday Cocktail Recipes
Hot Apple Pie Cocktail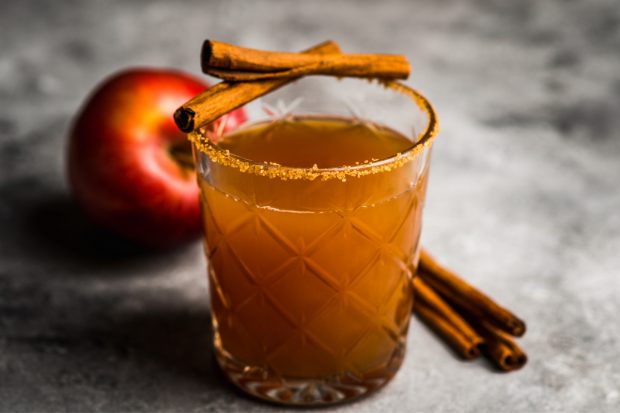 Apples are a seasonal fave, so why not incorporate them into a delish hot cocktail? Not only will it warm you from the inside-out, but this sweet-tasting alternative to hot cider is also low in calories, so it won't wreak havoc on your health and fitness goals.
Ingredients
2 oz sake
4 oz fresh apple juice
1 tsp apple pie spice
1 cinnamon stick
1 dried apple slice for garnish
Preparation
Using a mandoline or sharp knife, slice apple into thin rounds. Sprinkle with apple pie spice and bake on cookie sheet at 280 degrees for 20 mins, turning the slices halfway through.
Combine the sake and the apple juice in a saucepan. Add apple spice and heat through.
Pour into a mug and top with the dried apple slice and a cinnamon stick.
Fire Pit Party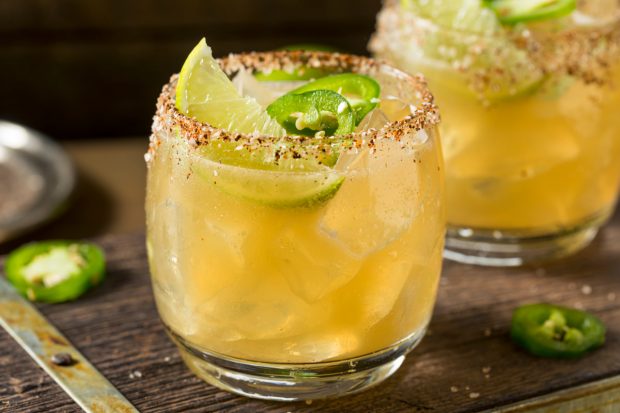 This fiery number is for the spice fiends. The effervescent and fermented drink Kombucha is widely known for its gut health benefits. And with the over-indulgence of the holiday season, why wouldn't you choose a low-calorie cocktail that helps, rather than hinders your health journey? This one packs all of the flavor too—perfect to get those tastebuds dancing.
Ingredients
2 oz chili-infused tequila
6 oz lemon-ginger kombucha
¼ squeezed lime
¼ squeezed lemon
Cinnamon stick as garnish
Jalapeño slice as garnish
Preparation
Fill a glass with ice.
Pour the kombucha and lime and lemon juice over the ice.
Add the tequila and give it a good stir.
For garnish: add a cinnamon stick and slice of jalapeño if you're feeling extra spicy.
Tip: Experiment with different tequila flavors or substitute with your favorite kombucha recipe.
Come Fully Zest
This delicately flavored drink is low in calories but certainly not in flavor. Like some party guests, it's classy and a little tart. Impress 'em all with this elegant cocktail.
Ingredients
½ oz gin
1 oz elderflower liqueur
½ oz Bianco vermouth
½ lemon juice
4-5 slices of cucumber, quartered
1 egg white
Cucumber and lemon to zest
Preparation
Slice cucumber into quarters. Add sliced cucumber, gin, elderflower liqueur, vermouth and lemon juice into a cocktail shaker.
Muddle the ingredients.
Add the egg white and ice and shake until it's frothy.
Double strain into a coup glass and let it settle.
For garnish: add lemon zest and a slice of cucumber.
Let's Get Celery!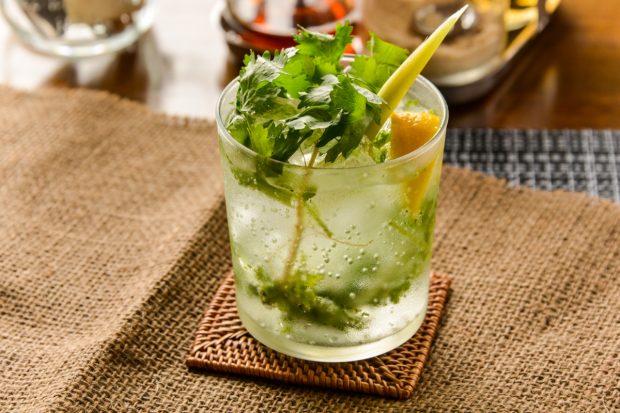 This skinny cocktail wouldn't be out of place at a high-end spa retreat. It's simple, delicious and weighs in at 150 calories per serving. So don't worry, your health goals won't get derailed over the holidays!
Ingredients
1 oz lemon vodka (such as Absolut Citron)
3 tbsp freshly squeezed lime juice
1 tbsp agave syrup
1 tbsp water
5-inch piece of celery
¼ cup chopped cilantro
2 tbsp seltzer
Ice
Preparation
In a mixing glass or pitcher, combine celery and cilantro and muddle together with vodka, lime juice, agave syrup and water.
Pour through a fine-mesh strainer into a glass filled with ice and top with seltzer.
Garnish with celery, cilantro and a lime wedge.
Holiday Mocktail Recipes
Cocktails don't have to be boozy to taste good, so why not try these delicious, alcohol-free alternatives?
Festive Ginger Spice Mocktail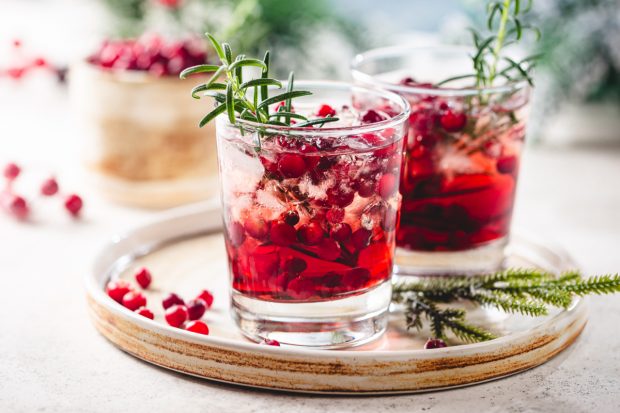 This low-calorie mocktail recipe is full of flavor, with tangy ginger, bitter cranberry and bubbly kombucha all working together to give you a taste sensation. Whoever said mocktails were boring clearly hasn't tried this one!
Ingredients
6 oz ginger turmeric kombucha
⅛ cup pure unsweetened cranberry juice
1-inch piece of fresh ginger, peeled
2 sprigs of fresh rosemary
Handful of fresh cranberries (frozen)
Preparation
Muddle together ginger and 1 sprig of rosemary at the bottom of a glass.
Add 1 oz kombucha to the glass.
Fill another glass with ice.
Strain mixture into the glass with ice.
Add remaining 5 oz of kombucha and cranberry juice.
Top with cranberries and 1 rosemary sprig.
Tip: Not digging turmeric kombucha? You can try this recipe with your favorite kombucha flavor.
Dew You Wanna Party?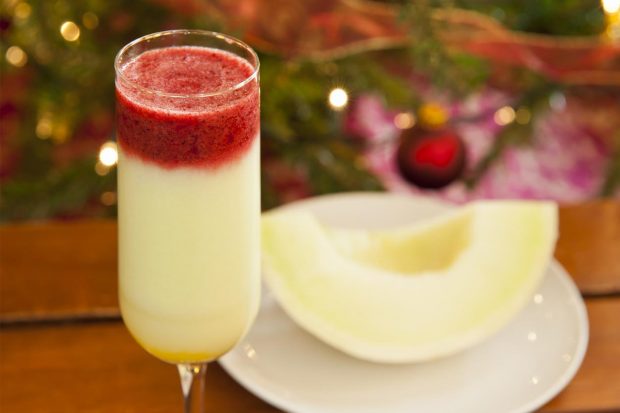 Refreshing, tasty and super low in sugar, mighty melon is what makes this drink pop. Not only are melons high in fiber (a powerful, natural appetite suppressant), but they're low in calories, too! What's not to love?

Ingredients
¼ honeydew melon
½ slice of pineapple
Sparkling water
½ handful of strawberries (frozen)
½ handful of crushed ice
¼ lime
¼ orange
½ tbsp agave syrup
Preparation
Peel the honeydew melon and pineapple and chop into small pieces.
Place the melon, pineapple, the juice of half a lime and the crushed ice in a blender. Puree everything until smooth.
Add sparkling water to dilute the smoothie. This will make it easier to drink. Dilute your smoothie to the consistency you like.
Serve in champagne glasses, leaving some room for the strawberry puree.
Place the frozen strawberries, agave syrup and the juice of half an orange in the blender. Puree until smooth. Pour on top of the melon smoothie in the champagne glasses. Now it's time to make a toast!
Tip: If you don't want your drink too bubbly, replace sparkling water with coconut water. This will make it even tastier.
Jolly Orange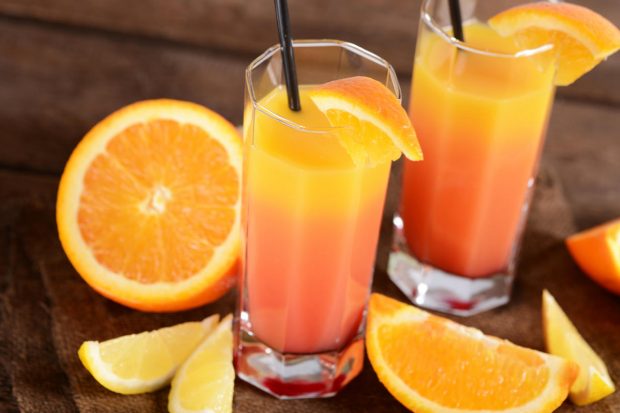 It's easy to see why oranges are the most popular citrus fruit! They're vitamin-packed and have an irresistible juicy taste, which makes them the perfect star ingredient of this mouth-watering low-calorie holiday mocktail. Let's get juicy!
Ingredients
1½ oranges
½ grapefruit
½ lemon
75ml orange juice (freshly squeezed)
1 handful of crushed ice
Preparation
Peel oranges and the grapefruit. Cut ½ of one orange into sections for later use as a garnish.
Cut the lemon in half.
Place 1½ oranges and grapefruit pieces in the blender and pour in 75 ml orange juice.
Add the juice of ½ a lemon and process until liquid.
Cut the other half of the lemon into sections.
Put a handful of crushed ice into your glass, pour the mocktail over and decorate with the remaining lemon and orange slices.
Tip: Too sour? Use more orange juice and less grapefruit juice.
Blue Christmas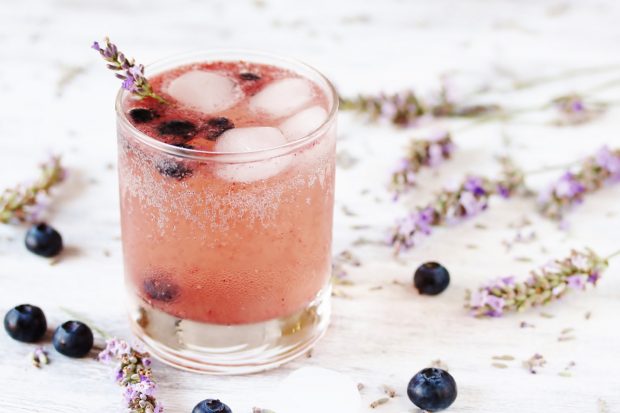 Blueberries are low-calorie, low-fat and bursting with nutrients and antioxidants. Add lavender to the mix and you're in for an irresistible mocktail. Bottoms up!
Ingredients
1.3 oz lavender syrup
2.6 oz blueberry juice
3.1 oz tonic water
½ lemon juice
Twig of lavender for garnish
Preparation
Fill a glass with ice.
Add the lavender syrup and blueberry juice.
Top up with tonic water and lemon juice.
Mix well and garnish with lemon peel and a twig of lavender.
Tip: If you find the drink too sweet, try adding more lemon juice.
---
Find everything you need for a healthy holiday season in the Gymondo app. Explore 1000s of holiday recipe ideas and quick and effective workouts to fit into your busy schedule. Sign up for a free trial with Gymondo today!