The words "healthy" and "Halloween" may sound a little spooky!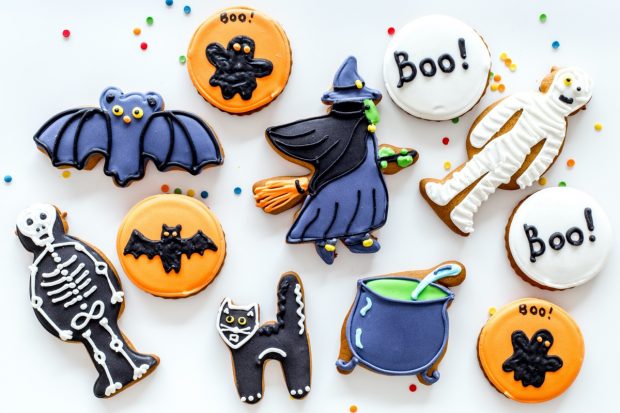 Trick-or-treaters are likely to scowl at the little old lady handing out boxes of raisins or limp carrot sticks. These healthy treats certainly don't scream sugary Halloween fun!
But when you're trying not to completely blow your health and fitness goals on the creepiest night of the year, these Halloween-inspired sweet and savory snacks will leave you guilt-free while still impressing your ghoulfriends!
From pumpkin spice to cinnamon and nutmeg, your favorite seasonal flavors won't be neglected. Don't let your costume be the only thing that steals the show at your spooktacular theme party. Instead, try these 5 horrifyingly healthy Halloween recipes that are eerily good for you.
Scary Apple Bites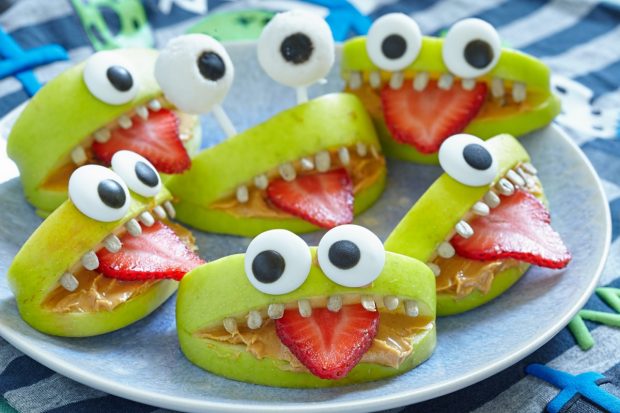 These little goblins may be scary, but they're still super nutritious!
Ingredients:
2 green apples, each quartered
Sunflower butter
Sunflower seeds
2–3 strawberries, sliced
Instructions:
Cut the middles out of each quarter of the apple to create a mouth. It's ok if it's not perfect—you're filling the gap with sunflower butter, so you can always cover up your mistakes.
Coat the inside of the mouth with a dollop of sunflower butter.
Place 4 sunflower seeds on the top of the mouth for the teeth.
Place 1 sliced strawberry inside the mouth for the tongue.
Use sunflower butter to make round eyes and place one sunflower seed on top for the eyeball.
Healthy Pumpkin Muffins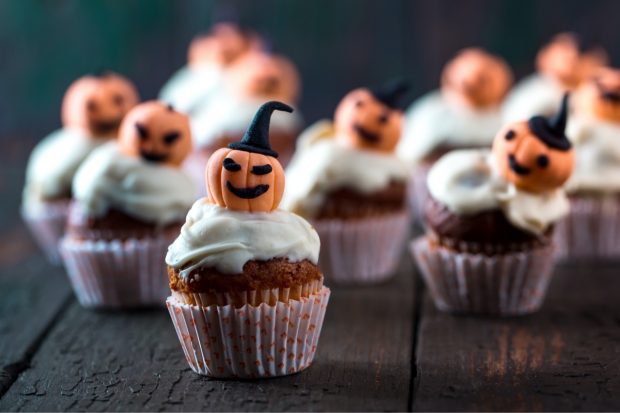 Give 'em pumpkin to talk about with these gourd-geous muffins.
Ingredients:
For cupcakes
⅓ cup melted coconut oil or extra-virgin olive oil
½ cup maple syrup or honey
2 eggs, at room temperature
1 cup pumpkin purée
¼ cup milk of choice
2 teaspoons pumpkin spice blend (or 1 teaspoon ground cinnamon, ½ teaspoon ground ginger, ¼ teaspoon ground nutmeg, and ¼ teaspoon ground allspice or cloves)
1 teaspoon baking soda
1 teaspoon vanilla extract
½ teaspoon salt
1 ¾ cups whole wheat flour
⅓ cup old-fashioned oats

For frosting
1 cup plain nonfat Greek yogurt
8 oz light or fat-free cream cheese, well softened
2 servings (16g) sugar-free, fat-free instant vanilla pudding mix
1 tsp honey

Instructions:
Preheat oven to 325°F.
Grease 12 cups of your muffin tin with butter or non-stick cooking spray.
In a large bowl, beat the oil and maple syrup or honey together with a whisk. Add the eggs and beat well. Add the pumpkin purée, milk, pumpkin spice blend, baking soda, vanilla extract and salt.
Add the flour and oats to the bowl and mix with a large spoon, just until combined. If you'd like to add any additional mix-ins—nuts, chocolate or dried fruit, fold them in now.
Divide the batter evenly between the muffin cups. Optional: sprinkle the tops of the muffins with oats, raw sugar and/or pumpkin spice blend.
Bake muffins for 22-25 minutes or until a toothpick inserted into a muffin comes out clean.
Place the muffin tin on a cooling rack to cool.
While the cupcakes are cooling, prepare the frosting. Add the Greek yogurt, cream cheese, instant pudding and honey to a large bowl. Beat with an electric mixer for 2 minutes. Cover the top of the bowl with foil and refrigerate for at least 2 hours. Once the cupcakes have completely cooled, pipe the cream cheese frosting on top just before serving. Get creative and add some spooky edibles on top!
Creepy Lychee Eyeball Garnish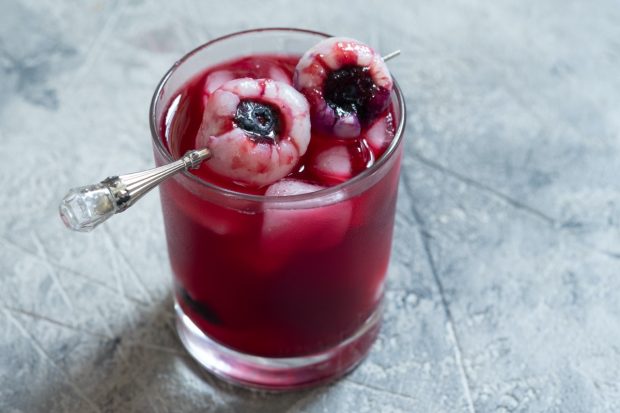 Fancy a cocktail? Garnish your favorite alcoholic beverage with creepy lychee eyeballs and scare the socks off your Halloween guests.
Ingredients:
Canned lychee fruit
Fresh blueberries
Strawberry or raspberry jam
Cocktail picks

Instructions:
Drain and dry the lychee, then fill with the jam.
Place a blueberry into the cavity.
Skewer with a cocktail pick so it will lay across the rim of a glass. Continue building eyeballs until you have enough to garnish all of the drinks you'll be serving. They can be refrigerated in a single layer inside a sealed container until the party starts.
Mummy Pizza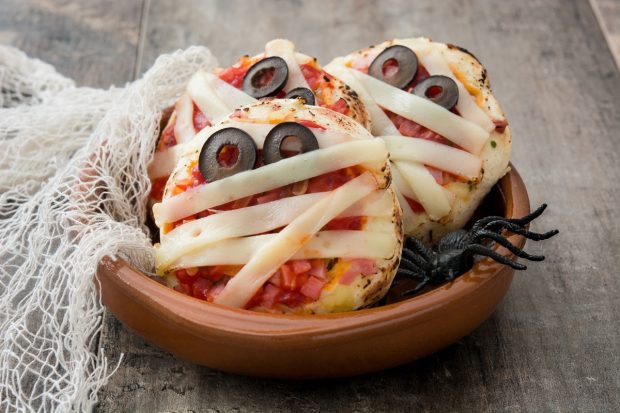 Add a savory snack to your Halloween smorgasbord with this easy, four-ingredient recipe that'll leave your party guests feeling eery.
Ingredients:
Whole wheat French baguette
1 cup marinara sauce
Black olive slices
Sliced mozzarella cheese
Instructions:
Preheat oven to 425°F.
Cut the baguette in half lengthwise, then cut each half crosswise in 2 pieces to give you a total of 4 pieces total. Slice the mozzarella cheese into thin strips.
Place the bread, cut side up on a greased baking sheet. Spread 1/4 cup of marinara sauce on top of each piece.
Place 2 olive slices on each piece of pizza to make eyes. Lay out the mummy cheese strips crosswise over the sauce.
Bake in the center rack until the cheese is melted and bubbling, and the bread is crisp—8-10 minutes.
Bloody Falafel Fingers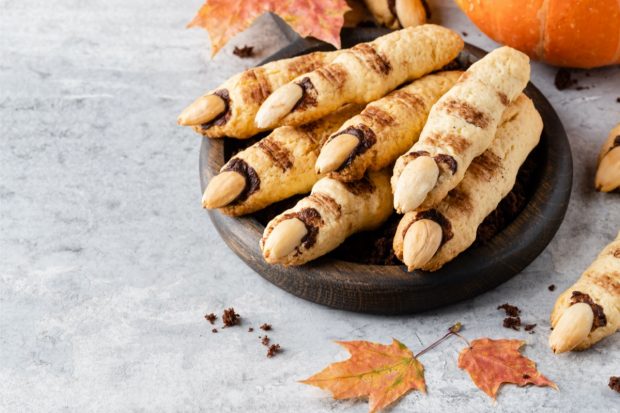 The ultimate finger food (pun intended), albeit bloody, to impress all plant-based goblins and ghouls.
Ingredients:
Store-bought hummus
4 cloves of garlic
1/4 cup cilantro
1/4 cup parsley
1 teaspoon salt or to taste
½ teaspoon cumin powder
½ teaspoon whole coriander seeds or coriander powder
½ teaspoon cayenne pepper or black pepper or to taste
1-2 tablespoons chickpea flour
Raw almonds
Instructions:
Add in all ingredients, minus chickpea flour and raw almonds. Pulse until mixture is of a coarse consistency. If using a blender, make sure to blend only half of your total mixture at a time to keep from clogging your blender.
Transfer falafel mixture to bowl and add in chickpea flour. Form long finger shapes.
Press an almond half onto each finger using chickpea flour and water paste (place a few water droplets into the chickpea flour) as a glue.
Preheat oven to 375°F. Place falafel fingers onto a greased tray and place into oven. Bake for 25 minutes or until golden brown on the outside. Turn tray after 15 minutes to bake through evenly.
Remove from oven and serve hot with ketchup or sriracha to represent blood.
---
Instead of seeing something really scary this Halloween—like the ingredient list on your favorite candy bar—opt for these 5 eerily healthy recipes instead!

Need more recipe inspiration? Head to Gymondo and explore 1000s of foodie-grade recipes perfect for your dietary needs.