Don't let the holiday festivities undo all the hard work you've dedicated to your health and fitness.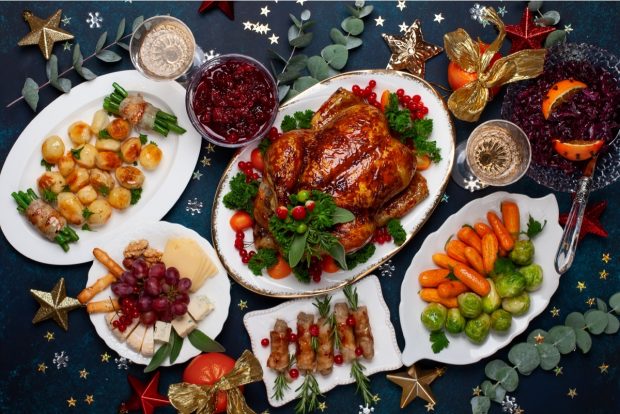 Bring these simple and healthy holiday recipes—everything from starters to desserts—to your potluck party and stay on track to reach your fitness goals without feeling like you're missing out on all the fun festivities.
Rosemary Roasted Almonds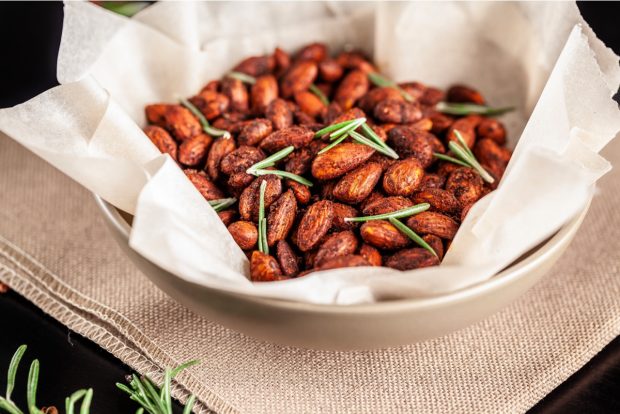 Imagine the aroma—savory almonds tossed in olive oil, rosemary and salt, roasted in the oven until golden brown and served as an accompaniment to a pre-dinner cocktail. Yum!
Even better, almonds are filled with healthy fats and plenty of fiber, so you won't be as likely to overindulge when it's your turn to hit the buffet line.
Ingredients:
3 cups (1 pound) whole raw almonds
2 tablespoons extra virgin olive oil
1 teaspoon fine sea salt
1 teaspoon dried (crushed) rosemary
Instructions:
Preheat oven to 350°F.
In a medium-sized bowl, toss together all ingredients until almonds are well coated.
Spread into a single layer on a large baking sheet.
Roast for 10 minutes, stir and continue roasting for another 10 minutes. Watch closely during the last 10 minutes to make sure they don't get too brown.
Cool completely on baking sheet before storing in an airtight container.
Holiday Spiced Vegan Chili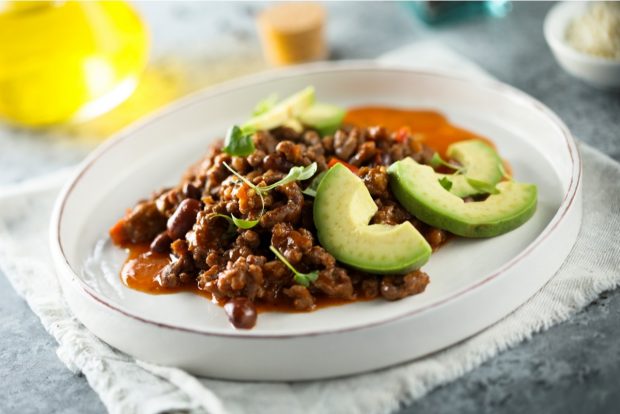 There's no better recipe to bring to a potluck than a hearty vegan chili. And there's no need to stress about finding the time to prepare it—it's ready in under 30 minutes! Who doesn't enjoy a comforting bowl of chili that's actually good for you? Add this potluck pleaser to the mix and impress your dinner guests!
Ingredients:
1 tablespoon olive oil
1 diced yellow onion
1 tablespoon minced garlic
1 shredded carrot
1 cup diced mushrooms
1 minced jalapeno pepper
1 cup diced tomatoes
1 cup corn
2 tablespoons chili powder
1 tablespoon cumin
1 ½ cups tomato sauce
1 can (15 oz) kidney beans
1 can (15 oz) black beans
1 can (15 oz) chickpeas
½ teaspoon molasses
1 ½ teaspoons salt
1 teaspoon pepper
Chopped cilantro (as topping)
Sliced avocado (as topping)
Instructions:
Heat olive oil in a large pot over medium heat. Add onion, garlic, carrot, mushroom and jalapeno. Sweat until vegetables are soft and translucent.
Add chili powder, cumin, salt and pepper and saute for 2 minutes.
Add in tomato, tomato sauce, all beans and molasses and cook for another 10 minutes, until the liquid has slightly reduced.
Serve with chopped cilantro and avocado.
Danish Meatballs (Frikadeller)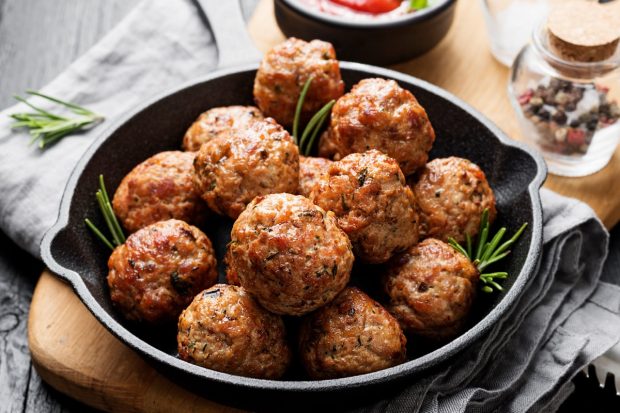 I might be a little partial, having lived in Denmark for 10 years, but there's nothing that screams "the holidays" more than delicious Danish meatballs!
Ingredients:
¾ lb ground beef
1 lb ground pork
1 grated onion
½ cup breadcrumbs
4 tablespoons flour
2 eggs
½ teaspoon salt
¼ teaspoon pepper
¼ teaspoon nutmeg
2-3 garlic cloves
½ teaspoon sage leaves
½ cup half & half or milk
¼ cup sparkling water
Butter
Instructions:
Combine beef, pork and onion. Add breadcrumbs, flour, eggs, salt, pepper, nutmeg, garlic and sage leaves. Mix with your hands.
Slowly add half & half (or milk) and sparkling water for consistency. The meatballs should be slightly sticky. Coat a large skillet with butter. Drop a heaping tablespoon-sized meatball onto the skillet.
Fry on medium heat until golden brown (gently press the meatball down with a fork so it flattens out a bit. It should look like a fat hamburger. Then, flip after 3-5 minutes on one side. Add more butter with each batch.
Cinnamon Roasted Butternut Squash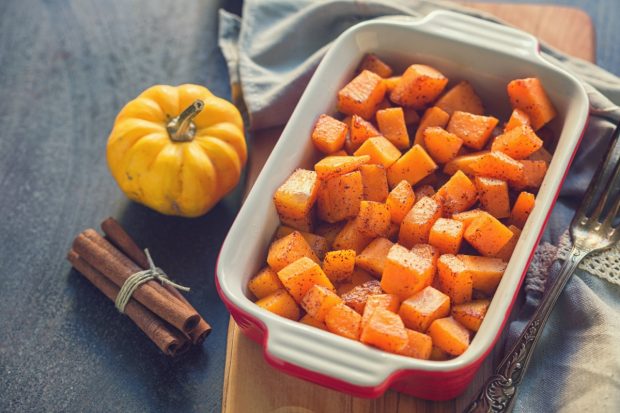 Transform wintery butternut squash into a dish that's worthy of a holiday potluck! Picture cubes of butternut squash roasted with cinnamon and maple syrup until caramelized and tender. Toss it with some fresh rosemary to wow your dinner guests and awaken their tastebuds!
Ingredients:
1 butternut squash, cubed
2 tablespoons olive oil
1-2 tablespoons maple syrup
1 teaspoon cinnamon
Fresh rosemary
Instructions:
Use butter or olive oil to coat two baking trays (in addition to the ingredient requirements above). Grab a large bowl and add your squash cubes. Add the olive oil, maple syrup and cinnamon to the bowl. Toss until the squash is coated.
Divide the squash between the baking sheets. Make sure the squash is spread into a single layer and not overly crowded.
Place your baking sheets in the oven and bake for 15 minutes at 400°F. After 15 minutes, remove the pans, turn the squash with a spatula and return to the oven.
Bake until the squash is tender (about 15 more minutes). Remove from the oven and top with fresh rosemary. Serve warm and ENJOY!
Chocolate-Cherry Tofu Parfaits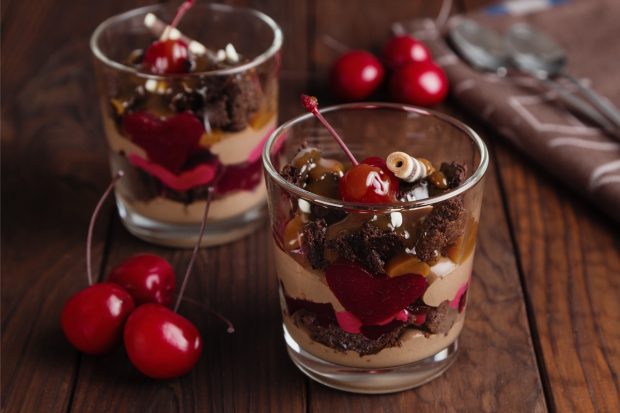 Let chocolate-covered cherries be the center of attention at your holiday potluck. This dessert celebrates the harmony of holiday flavors and portion control via parfait glasses.
Cherries aren't only delicious, they're also super good for you! They contain powerful immune boosters, like antioxidants, vitamin C and calcium. Not only that, they're also rich in fiber—a powerful natural appetite suppressant.
Ingredients:
Filling:
1 package soft tofu
⅓ cup maple or agave syrup
⅓ cup coconut oil, melted
¾ teaspoon vanilla extract
1 cup pitted cherries (frozen or fresh)
¾ teaspoon salt
1 ½ cups crispy vegan chocolate cookies (any brand)
Topping:
1 cup pitted cherries (frozen or fresh)
¼ cup vegan sugar
Instructions:
Add the chocolate cookies to a blender or food processor. Blend until processed into fine crumbs.
Evenly distribute the cookie crumbs between the 4 parfait glasses, reserving about 2 tablespoons of cookie crumbs for the topping.
Add the filling ingredients to a blender and process until smooth.
Pour the filling over the top of the cookie crumbs in the parfait glasses. Add a sprinkle of the leftover cookie crumbs over the top of each. Cover glasses with plastic wrap and place in the fridge.
For the cherry topping: Add the cherries and sugar to a small saucepan. Warm over medium-high heat, stirring briskly as the mixture bubbles and the sugar melts. Cook for about 2-3 minutes or until the cherries have softened into a pie filling-like texture. Remove from heat and pour the topping into a separate bowl. Place in the fridge.
Chill the filling and cherry topping for at least a half-hour or until firm.
Serve by spooning the cherry topping over the filling.
That's a Wrap
Your holiday potluck doesn't have to overturn all the progress you've made toward your health and fitness goals. These healthy snacks, appetizers, mains and desserts are perfect for your next holiday get-together. Try them out and let us know what you think! And if you find yourself craving more delicious and nutritious recipes, head to Gymondo and explore 1000s of healthy dishes.