Jessica has lost 35 pounds and has a completely new attitude to life. She's fitter, more active, and more self-confident! Read her motivational story here and then set off on your own path to success.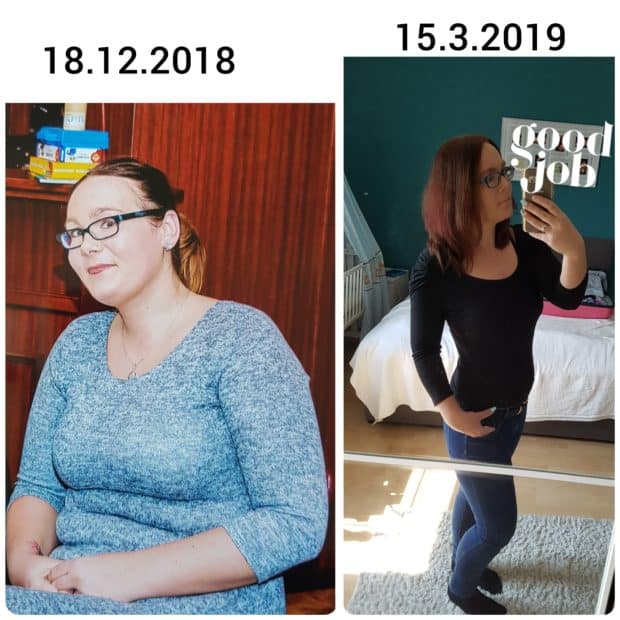 Jessica, you look great! The question that everyone is asking – how much did you lose and how long did it take you?
I lost 35 pounds in 8 weeks.
Amazing! Congratulations! How often did you work out each week? Which Gymondo program did you do and how about the diet?
I opted for the "Weight Loss Beginner" and 4 workout days. Also, from time to time, when it fits into my daily routine, the "Abs Legs Butt" workout. In addition to training with Gymondo, I've done 'Baby and Me Workouts' with my baby once a week. I found changing my diet easy, thanks to the super delicious recipes. I replaced white sugar with healthy alternatives and cut out wheat flour. However, I also allowed myself to slip from time to time and occasionally treated myself to something.
… and still, you succeeded. This is great. It's always about the balance! What made you realize that you needed a healthy lifestyle change?
The triggers for my weight gain were definitely my two pregnancies. I gained a lot of weight extremely fast after my pregnancies. After my first pregnancy 5 years ago, I got stuck at about 190 pounds. After the second pregnancy, I weighed almost 200.
A familiar problem for many mothers… So what exactly bothered you about this change that you decided to do something about it?
I felt so uncomfortable in my own body and had no stamina that I was always feeling tired and worn down. I couldn't even look at pictures of myself. It really showed me that it was definitely time to do something.
Why did you choose Gymondo?
I'm not at all a gym rat. I really wanted to find a way to exercise at home so I could easily integrate the workouts into my everyday life. I had seen the Gymondo ads many times before and the concept was just right up my alley.
Great, we're glad to hear that! What was your first positive experience with Gymondo?
When I finished the first workout, I felt so good. It was great fun to train with Oliver. Also trying new recipes was great.
Was there a moment of happiness when you realized it was worth committing to it?
I just felt fitter and more comfortable in everyday life. Also, the successes on the scales were a real incentive to continue.
Of course! You've surely had moments that weren't quite so happy, right? Were there any phases where you were in doubt?
Sometimes with two young children, it's not so easy to stick with a healthy diet and exercise in addition to all the stresses of everyday life. So I just did a little less and also let the diet slide a bit. After a while, I just felt uncomfortable and got back on track on my own.
It's great that you got to know your body so well and felt like getting back to it! How did friends and relatives react to your change?
I received so much encouragement and compliments. It's so good that others see the results as well.
That's true. Was there something that motivated you to commit to your goal?
I finally fit into all my old things again. Pants that were hidden way back in the closet fit great again. Besides, it's just a brand new, great attitude to life. I just feel so much healthier.
Absolutely fabulous! What has changed in your life since your transformation?
I perceive my body quite differently. I eat more consciously, enjoy cooking, and exercising. That was unthinkable before Gymondo.
Do you have a special tip for those who want to lose weight just like you?
Don't put yourself under too much pressure. Find a diet that suits you well and don't forget to treat yourself. Be proud of yourself and your achievements even if they are minimal. After all, you are doing something!
Nice. What's your next goal?
I would like to lose another 20-25 pounds. But I'm not letting that stress me out. I currently feel very good in my body. In any case, I want to continue exercising.
You can do what Jessica has done: Train free for 7 days with Gymondo!