What great success with Gymondo! Read Christin's motivating story in this interview: dropping 55 pounds and gaining an entirely different attitude to life.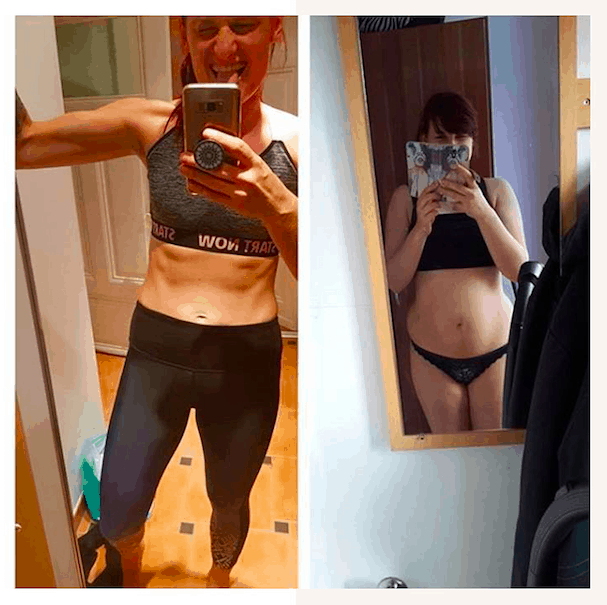 Wow, congratulations on your great success! The question that everyone is asking: how much did you lose and how long did it take you?
Thanks. I gave birth to my baby in April 2016 and started with Gymondo in July. I lost almost all of the baby weight by the beginning of 2017, but then I started slipping. I was just exhausted with the kids, school, and even my partner. I think many others can relate. It was in summer 2018 that I really started again with Gymondo. So from July 2016 to about February 2017, I had lost 55 pounds.
How often did you work out each week? Which Gymondo program did you do and how about the diet?
I did two programs at the same time: Booty Camp and Six Pack and, when I was done, sometimes Pure Cardio and Bikini Body. I did really well with the nutrition plan and always made myself a weekly plan with the recipes, which worked out well. The kids always ate it, too!
Can you remember when you started to change your eating habits?
Yes, my pregnancy. I just didn't think about what I was eating when I was pregnant… I pigged out and didn't care about what I was eating. The main thing was sweets. Of course, there was also a lot of healthy food, but unfortunately, the bulk was sweets.
What exactly bothered you about this change that you decided to do something about it?
When the pregnancy was over, I looked so bad! I had always been very, very slim… and then suddenly I was sooooo fat. It hurt… I felt so unsexy and just really bad in general.
Why did you choose Gymondo?
I needed something to do at home. I had tried so many other products before. All different kinds of DVDs. With Gymondo, I finally found some great videos that I loved. Honestly, the videos are what convinced me, not those animated sports apps – Those were so horrible. Sorry.
What was your first positive experience with Gymondo?
I started with the Bye Bye Baby Bump program. It was so cool that I stuck with it and the results quickly followed. That was great and motivated me to stick to it.
Was there a moment of happiness when you realized it was worth committing to it?
Oh yes, in the summer of 2018! When I first saw my six-pack, I could see how well it paid off! And I had plenty of happy moments working out. For example, when I was able to do my six-pack videos with Daniela Dobner, she's the best, and I like training with her the most.
You've surely had moments that weren't quite so happy, right? Were there any phases where you were in doubt?
Oh, God, yes… There were a thousand moments where I thought: Okay, that's it! I'm done. My problem is that my butt grows very fast (not a problem in itself), but as soon as I lose a couple of pounds, my butt is completely gone and that demotivates me a lot. Also with my abs, there were times when I wondered why I actually bothered working out. But I know now that it's worth sticking with it!
How did friends and relatives react to your change?
They were really surprised! I have since gotten three friends to join Gymondo… so the feedback's been really great. Everyone was very proud of me!
Was there something that motivated you to stick to your goal?
The idea of a perfect body is what most motivates me: you want to be able to wear a bikini and not have your hips hanging out all over the place. That was my biggest incentive. And, of course, feeling good again.
What has changed in your life since your transformation?
Hmm, what's changed? I've become more self-confident, although I still have my problem areas. I'm more self-aware, have fallen in love with exercise, and I've developed greater stamina.
Do you have a special tip for those who want to lose weight just like you?
No, no special tips. I can only advise them to get out there and do it. It feels so awesome to see the results! Stick to it, don't give up, and treat yourself to some sweets every now and then. Giving them up entirely is utter nonsense and will just make it all that much easier to give up.
What's your next goal? Maintain your current weight? Continue to lose weight? A half marathon?
I want a bigger butt while losing some weight on the hips. A half-marathon is actually in the works for 2020… Let's see whether I can handle it with 2 toddlers.
Thanks for the great interview, Christin! Keep up the good work and have fun on your way!
You can do what Christin has done: start your Gymondo trial now for free!