Rosa completed the entire Slim in 10 Weeks program and now she has the figure of her dreams.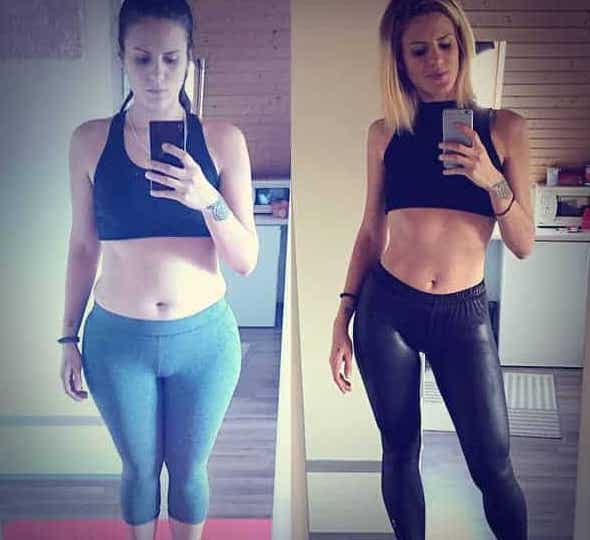 It's impressive what happens when you commit like Rosa. With Slim in 10 Weeks and Bikini Body, she lost 44 pounds.
How did you decide to start exercising again and begin with Gymondo?
I've always been physically active. When I moved away to college in 2013, I joined a gym right away. But I soon realized that I didn't have the time to work out regularly. Due to a lack of exercise and bad eating habits I developed (especially during exams), I managed to gain about 40 lbs. within 2 years. When my loosest pair of pants had become too tight, I realized that something had to change. I lost the first 20 pounds on my own, but then my progress hit a wall. That's why I sought support from Gymondo.
What made you commit to the program?
That actually happened all on its own. I was immediately impressed by the nutrition concept and workout videos and was looking forward to getting started. It didn't take long and I started feeling much fitter and healthier. When my pants became looser and the first people started complimenting me on the change, that of course, motivated me even more. Now, Gymondo is no longer something I just have to get through. I quickly got used to the nutrition plan and I look forward to the workouts. It's now just part of my everyday life.
What was your best experience?
There were a few. But I think the nicest thing was clearing out my closet. Having dropped from a size 14 to size 8, naturally, I had to buy new clothes.
Which program did you use to lose weight?
I started with the Slim in 10 weeks program. The last few pounds I lost was with the Bikini Body program. I've since reached my goal weight and am continuing with Body Transformation to fine-tune my results.
How long did it take to achieve your current weight?
All in all, I lost about 70 pounds within a year, 44 of which I lost in 6 months with Gymondo.
Please describe your nutrition.

I followed the nutrition plans precisely. So no sugar, no products with white flour, and no alcohol, but lots of vegetables, fruits, and proteins. Most of the time I would cook something delicious in the evening and then take it with me to work or school the next day. I didn't even cash in most of my cheat points; when I did, I'd use them for an extra portion of feta cheese or nuts.
What did the program do for you?
I've learned how to balance fitness with a busy schedule and I have fundamentally changed my diet. Overall, I feel healthier, fitter, and just comfortable in my own skin.
What do the results look like?
That's probably best seen in the pictures.
What advice would you give to others?
Starting off can be hard. But once you take the first step, it quickly becomes much easier, so don't think too much about. Just stick to it. Then everything will go by quickly.
How did you deal with the times when your progress slowed down?
I haven't had any real slumps yet. But I've allowed myself some planned slacking off, so to speak. For example, on birthdays, at Christmas, or other family celebrations, or when I'm sick, then I treat myself to whatever I want with a clear conscience. So far, this has worked out really great for me.
Rosa's successes with Gymondo
| | | |
| --- | --- | --- |
| Height: 5 ft. 10 in. | Before Gymondo | Now |
| Weight | 190 lbs. | 143 lbs. |
| Waist | 34 inches | 27 inches |
| Hips | 44 inches | 35 inches |
| Thigh | 27 inches | 22 inches |

What tips do you have for others?
Trust Gymondo and the coaches. It really does work!
Now it's up to you!
Rosa made an incredible transformation with Slim in 10 Weeks and Bikini Body. Try it yourself and feel fit, happy and confident!